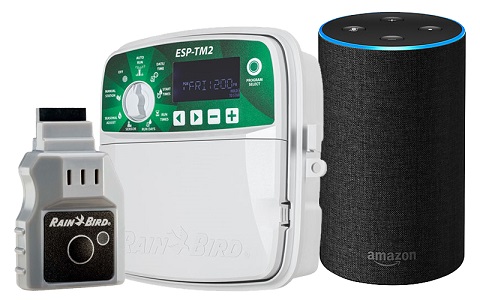 There is a new update to the Rain Bird App, which enables Rain Bird Skill by Amazon. It is now available at the Apple App Store and Google Play. With this Skill, end users can link ESP-TM2 and ESP-Me (more information on that below) controllers to their Alexa using the LNK WiFi Module and their Amazon account. In this post we're going to cover:
How to set up the app
How to operate it
And a small guide to the timers and accessories that are compatible
With 130 different commands, Rain Bird offers unique features incorporating custom program and zone names while enabling inquiries into irrigation time remaining, rain sensor status, and seasonal adjustment values. Watch the video below for setup instructions or a demonstration of the voice commands. This capability is only available in the US and Canada.
How to Set Up the Rain Bird App
Follow these simple steps to set up the app on your device:
Download the app from the Apple IOS or the Google Play store.
Within the app, select the controller you want to link to Alexa, and click Settings.
Expand the Connected Home section.
Enter the controller password.
Enter the email associated with your Amazon account and toggle the Alexa switch.
Click Done.
How to Set up the Rain Bird Skill on Alexa
Follow these simple steps to add the Rain Bird Skill feature to Alexa:
Open the Alexa App.
Select the menu icon, then select Skills.
Search for Rain Bird. When you've found it, select Enable.
Once again, enter the email associated with your Amazon account and the controller password.
You're all done!
Alexa-Compatible Rain Bird Skill Controllers
For this feature to work, you need a timer that is WiFi capable, and then you also need to upgrade the timer with the WiFi Module. We'll cover that first.
LNK WiFi Module
The LNK WiFi module is just a little component that you plug into the USB port on your Rain Bird controller. It allows for multi-site management (it should be noted that Rain Bird Skill only works on one site), which is a feature that contractors love. They can run quick diagnostics and control the timer from anywhere with an internet connection. It's compatible with both of the following controller series:
ESP-Me Timers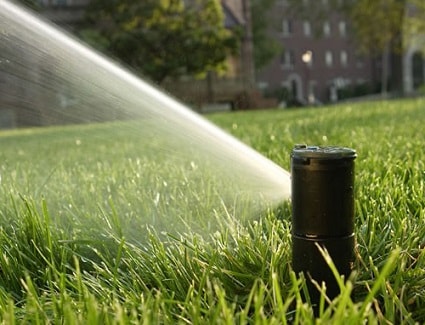 This line of Rain Bird controllers includes an outdoor installation (ESP4ME) and an indoor option (ESP4MEI). There are two indoor options, but one of them is not compatible with LNK WiFi, so we'll ignore it for this post. There are too many bells and whistles to mention them all here, but you can read more about them on the product pages themselves. For now, we'll give a quick summary of some of the features:
It 4-station base capability that can easily be upgraded with expansion modules to up to 22 stations. We carry both 3-station (ESPSM3) and 6-station (ESPSM6) options.
The controller is easy to operate with an easy-to-use interface on a large LCD display.
The lithium battery saves controller time and date during power outages with a 10-year lifespan.
There are four individual programs with six independent start times per program.
And so much more!
ESP-TM2 Timers
In case you don't know, the ESP in all the model numbers stands for Extra Simple Programming. This series of controllers is not expandable, and it doesn't quite have all the latest and greatest features you see with the ESP-Me controllers, but it does have some of its own strengths. One big advantage is that each of these models can be installed either indoors or outdoors. Here are the four options:
If you have any questions about any of these products, please do not hesitate to contact us. You can also read this Rain Bird Alexa integration guide. Hit us up with questions in the comment section, or you can go to the main site and use our chat feature. Rain Bird makes state of the art equipment, and even though it's user-friendly, it can be difficult to grasp it all. It's like drinking water from a firehose. We're standing by and ready to help.
Buy Alexa-Compatible Rain Bird Skill Controllers and Accessories
Shop around; you're sure to find great prices on these awesome innovations. We have all kinds of Rain Bird products, so no matter what you're looking for, your search should start here. We carry other reputable brands as well, so if Rain Bird isn't your thing, we still have you covered for lawn and garden needs. Check out all of our discount smart home solutions.