Three brand new Moen kitchen and bathroom collections are hitting the market right now, and PlumbersStock has everything in these lineups listed at competitive prices. Moen is a customer favorite around here, and if you've ever owned a Moen faucet, then you know why. This release includes the following:
Sinema kitchen faucets
Sleek kitchen faucets
Nebia showerhead w/ hand shower combos
Sinema Kitchen Faucets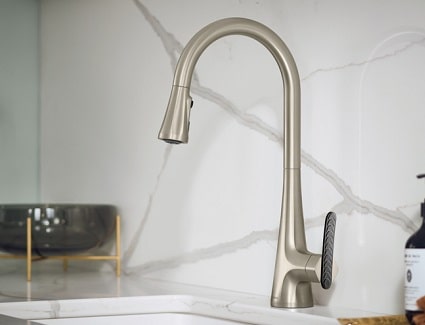 2022 update: check out the new Sinema smart faucets!
The Moen Sinema collection is inspired by the art deco period of the 1920s, and these pulldown faucets are a perfect fit for kitchens in the 2020s. As Moen describes the lineup, "Epitomizing grandeur, the fixture includes a secondary, alternate handle in contrasting finishes that features an art deco-inspired, etched shell motif, to inject dramatic elegance into any culinary space."
First of all, the pulldown hose offers extensive reach. It is self-retracting (Reflex system) with advanced docking technology (Duralock Quick Connect). The wand has two different spray functions, including patented Power Boost. Most noteworthy, Moen Sinema kitchen faucets come equipped with the reliable 1255 Duralast cartridge. There are four different finishes (chrome, matte black, polished nickel, Spot Resist stainless) for each of the following models:
Here is the full Moen press release about the Sinema collection.