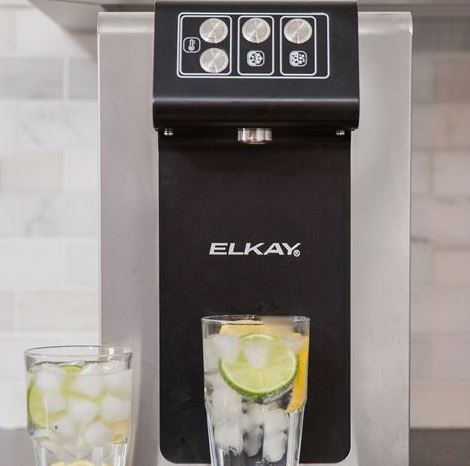 At PlumbersStock, one of our favorite brands is Elkay, and if you are familiar with their products, it's easy to see why we love them so much. In 2017, they were making waves with an excellent new solution for the office or home with these fancy, modern, stainless steel Elkay filtered water dispensers and cabinet system.
We are running special deals on the following:
Though Elkay makes some water dispensers that are specifically intended for use around the office, the dispensers above are great in any application. They are much more pleasing to the eye than a standard water cooler.
Elkay Filtered Water Dispenser DSBS130UVPC
The filtration system is certified to NSF42 for lead, particulate, chlorine, taste, and even odor reduction. And the UV purification prevents the growth of harmful bacteria. In addition to filtration, here are some of the main features of this model:
Coldwater (42 to 50 degrees)
Ambient water
Sparkling water, made possible by a CO2 regulator
Water pressure regulation
1.5 GPH chilling capability
Three stations
Dimensions = 23″ x 13″ x 26.25″
With the installation kit, you get everything you need, including fittings for connecting to your water supply, tubing, and an Elkay WaterSentry filter and mounting bracket. The filters are good for approximately 6,000 gallons. Here is the spec sheet for it.
Elkay Filtered Hot Water Dispenser DSBSH130UVPC
With this model, you get all the same features as seen above, except instead of ambient water, you get hot water:
Coldwater
Hot water – hot water tank holds a little over 1/4 of a gallon
Sparkling water
Water pressure regulation
1.5 GPH chilling capability
Three stations
Dimensions = 23″ x 13″ x 26.25″
And here is the spec sheet.
Elkay Water Dispenser Cabinet DSCABBSH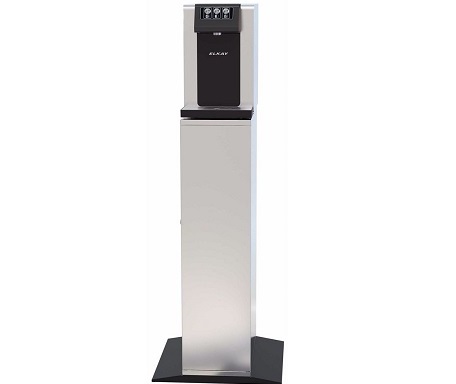 It's like they say, a picture is worth 1,000 words, and it's so true in this case. Either Elkay water dispenser can be placed on top of a counter, and it will work just fine that way, but some people may not have counter space, or you may not even plan on installing this in a kitchen. As you can see in this image, it won't take up a lot of floor space.
You only need about 20″ x 20″ of floor space. The cabinet is nearly 40″ tall without the Elkay filtered water dispensers mounted on top.
If you do not have the counter space, then this cabinet is an ideal solution for getting your installation in place exactly how you want it. As stated above, Elkay is so good about listening to their customers and coming up with the best plumbing solutions for their needs, and that's the innovative spirit that birthed this excellent idea.
Here is the spec sheet for the cabinet in case you need more information.
Save on Elkay Filtered Water Dispensers
If you haven't shopped with PlumbersStock, then you may not know this is one of the best places for buying Elkay products because of our vast selection of products and great prices. We often have the best deal you will find anywhere online. Get your hands on these Elkay water dispensers while these discount prices last!