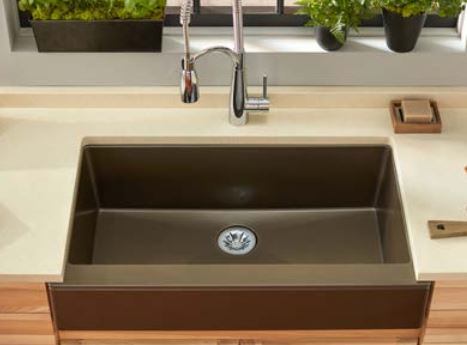 If you are a fan of the Elkay Quartz collection, then you will understand why we are so excited to be introducing the new Elkay Quartz Luxe Farmhouse sinks. These sinks are exceptionally tough and silky smooth to the touch. It offers various options with striking colors that will truly make a statement about your kitchen design. The Farmhouse sink includes the Quartz Luxe collection's most enticing features:
The silky sink surface resists dirt, making them easier to clean, thus they are low maintenance.
They offer superior strength, designed with proprietary fibers cast into the sink, which makes them additionally resistant to impact.
The colors are bold and rich!
The surface is both stain and smudge resistant.
These kitchen sinks are heat proof up to 535°F.
Food and liquids won't stick to the nonporous material, which helps to prevent the creation and spread of bacteria.
Last but not least, the thick material absorbs noise, so it offers natural soundproofing.
Quartz Luxe sinks are manufactured through a proprietary process that includes the combination of natural quartz and acrylic resins. That's oversimplifying it a bit, but you get the point. Organic fibers and fiberglass webbing are molded into the sink. This process allows the sinks to offer all the awesome features we mentioned, but one we have not addressed is the fact that Quartz sinks are a lot cheaper to ship than cast-iron and some other alternatives. Pictured below are other sinks from the Luxe collection, but they demonstrate the various colors you get to choose from for this Quartz Luxe Farmhouse.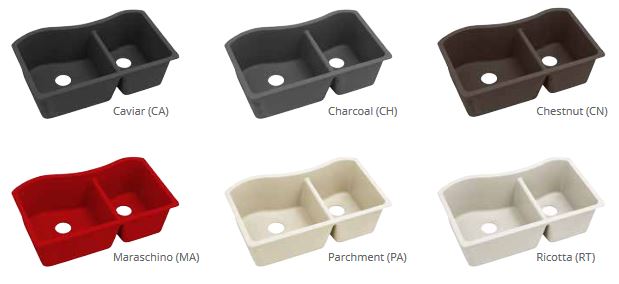 Elkay is one of our favorite brands here at PlumbersStock, and one of the reasons is their engineering is awe-inspiring. Regardless of what kind of sink you opt for, you can't go wrong with a new Elkay Quartz Luxe.
What Is a Quartz Luxe Farmhouse Sink?
In case you are unfamiliar with them, farmhouse sinks are the style you see where there is no counter between the user and the sink. They are also referred to as apron-front sinks. You will love the Quartz Luxe farmhouse sinks because they enhance your décor with clean, straight edges. This grandiose style eliminates the need for custom cabinetry. As Elkay puts it:
"Driven by the power of ingenuity, our smartly designed farmhouse and single bowl Quartz Luxe sinks with Perfect Drain® bring style to the kitchen. These sumptuous sinks are silky smooth to the touch."
The Perfect Drain eliminates seams and gaps around the drain. This allows you to enjoy a much cleaner and more hygienic sink. Here are the various colors of the Farmhouse sink. The Farmhouse sink MPN's include ELXUFP3620 and then the color abbreviation is appended to that number. Choose the best match for your kitchen:
Quartz Luxe Undermount & Top Mount Sinks
If you aren't wanting that apron-front look, then you can opt for a standard undermount or a top mount sink. You get all the same colors with all the same features to choose from, in various options for bowl configuration.
Most of these are not new to the collection. In fact, there is only one new option: it's the a single bowl undermount sink with a Perfect Drain. It's any of the six products with an MPN that includes ELXRUP3620.
Buy Elkay Quartz Luxe at PlumbersStock
No matter what kind of style you go for, they all have the same technology. Food has only but one choice, and that's to go straight down the drain. One great feature to look for is the extra-large bowl sizes because they offer more room inside for piling up dishes, filling pots, and even large baking sheets and roasters.
Buy the new Elkay Quartz online with the plumbing pros at PlumbersStock.