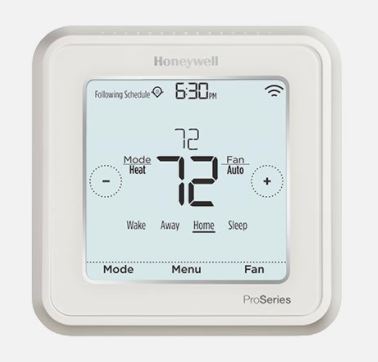 The new Honeywell Lyric T6 smart thermostats offer state of the art scheduling technology. It has unbelievable features, including:
Program it to match your unique schedule, and the smart technology will automatically adjust to more efficient operation as your schedule changes.
GPS technology (called Geofencing) recognizes when you are on your way home, and it adjusts the home's temperature accordingly. It knows how long it takes to get your home to the desired temperature.
It integrates with Apple HomeKit so that you can control your home's security, lighting, etc. in one easy to use platform.
Integrates with Alexa.
The Lyric Smart Thermostat system is compatible with both iOS and Android. There are two main products in this series you should be considering:
Lyric T6 Thermostat Features
Touch screen display size = nearly 7 square inches
compatible with most HVAC systems.
You can select 7-day settings, 5-2 day, 5-1-1 day, and even single day programming.
Features a hinged wall plate with terminal wires that are easy to install.
The touch screen display is high contrast and an easy-to-read. It's backlit with LED technology.
Intended for wired-on-the-wall installations.
Dimensions (in.) 4-1/16″ long x 4-1/16″ wide x 1-3/32″ deep
Dimensions (mm) 103.6 mm long x 103.6 mm wide x 28 mm deep
UWP mounting system
20 to 30 vac electrical ratings
Stages: Up to 2 heat/2 cool heat pumps; up to 2 heat/2 cool conventional systems
Operating Humidity Range (% RH): 5 to 90% RH, non-condensing
Supply voltage: 20 to 30 Vac
Operational temperature ranges from 37 Fahrenheit to 102.
Auto and manual control.
And more!
Lyric Leak and Freeze Detector Features
No hub or base station required. Install wherever you want and set it up using the Lyric app.
Battery life is up to 3 years without incident, and there is no wiring.
5-year warranty
Powered by 3 AA batteries (included).
It includes a 4-foot cable that can detect water anywhere along the cable.
Audible (100 dB) alarm sounds an alert.
It can be expanded up to 500 ft.
Buy Honeywell Lyric T6 Smart Thermostats Online
As you'd expect, we offer great deals on this technology. Save with PlumbersStock on all the best in thermostats for homeowners and business owners, as well as Honeywell products. Hopefully, this Honeywell Lyric T6 Smart Thermostats review has been helpful. If you have any more questions, please don't hesitate to contact us in the comment section below or through site chat (you have to leave the blog and visit the PlumbersStock main site to see the chat feature). Save on all your smart home technology with online home improvement leaders.