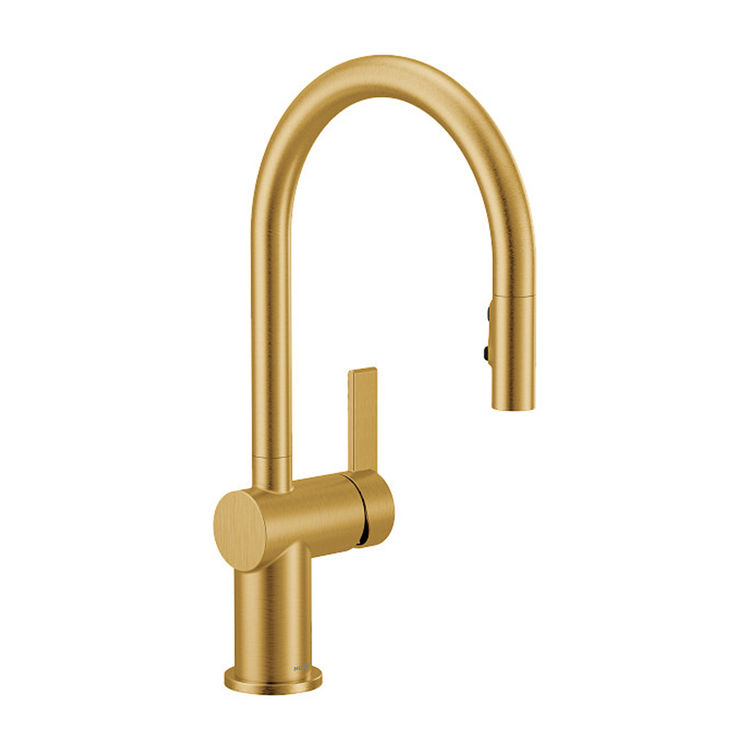 At PlumbersStock, Moen is one of our favorite brands, and it's easy to understand why. They make beautiful faucets! One of the most popular bathroom collections released in the past few years is the Cia series, and we're pleased to announce that we now have the new Moen Cia kitchen faucets. That's right, Moen has expanded the line to include bar/prep faucets and kitchen sink faucets.
Just like with the bathroom faucets, there are four colors. However, for the bathroom series, it's chrome, matte black, brushed gold, and brushed nickel. For the kitchen faucets, it's chrome, matte black, brushed gold, and Spot-Resist stainless. There are a total of 16 choices:
Cia Kitchen Faucet Features
These are high arc faucets, which means that they look stunning and offer lots of clearance. You will be surprised at how much power you get with a 1.5 GPM (gallons per minute) flow rate. The faucets include DuraLock technology, Moen's proprietary Quick-Connect system, which "assures quick, secure and hassle-free installation for Moen kitchen and bath faucets. This new solution helps save valuable time for plumbers and DIY installers alike."

On top of all that, you can go with a Voice-Activated option or our personal favorite, the MotionSense Wave. The voice-activated faucets integrate with Amazon Alexa and Google Home so that you can control them with your voice through Amazon or Google devices. The beauty of MotionSense Wave is its simplicity. Just flash your hand in front of the sensor to activate or shut off the faucet. A great feature when you have been handling raw meat and need to wash your hands, touch-free.
Buy Moen Cia Kitchen Faucets at PlumbersStock
Now that you know you want a Moen kitchen faucet, why not save money by shopping here online with PlumbersStock? Did you know that you can take advantage of further savings if you are a contractor or somebody who buys bulk? Our manufacturing partners prevent them from advertising lower prices, but PlumbersStock can offer the lower price to the customer once they have a relationship. Sign in to PlumbersStock to see special pricing on certain items. If you are a contractor or otherwise a bulk buyer, contact us for even more potential savings.