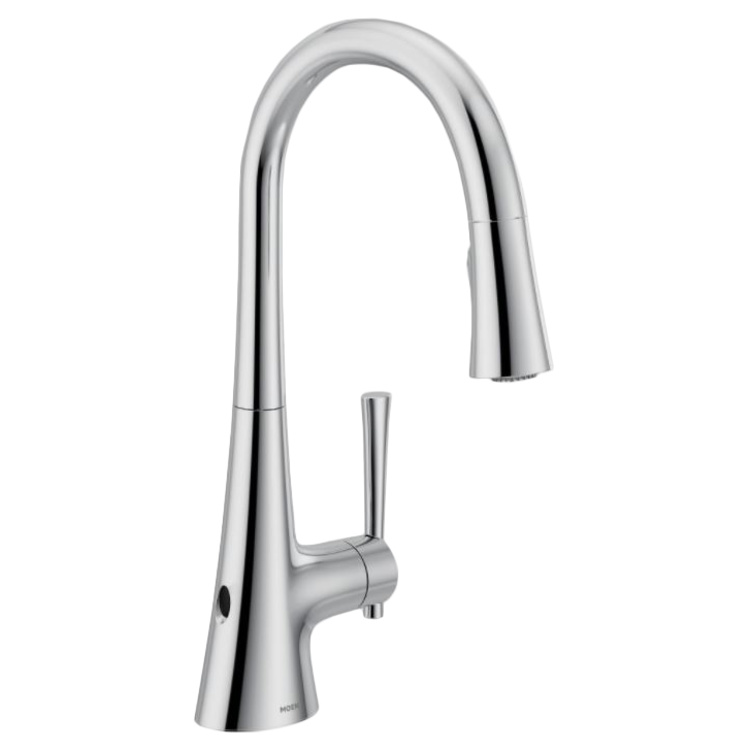 The innovators at Moen have done it again with a new kitchen collection! You will love our selection of Moen Kurv kitchen faucets. There are many different options from which to choose, and you should be familiar with all of them before making a purchase. With Moen, you know you are getting quality manufacturing with all the latest cutting-edge technology.
Speaking of state-of-the-art tech, one of the most exciting options is the 91260EW (pictured here at the top) which works using motion sensors. This MotionSense Wave is patented and improves hygiene while making the faucet easier to use. If that isn't enough for you, try one of the faucets that integrate with Amazon Alexa and Google Assistant for voice-activated control.
Kurv Kitchen Faucets
You get everything you'd expect with the standard pulldown faucet. They're elegant, sleek, and the right finish will make your kitchen really stand out.
Features include Duralock quick connect system, Reflex retraction, a 1255 Duralast cartridge, PowerBoost spray technology, and they operate at 1.5 gallons per minute.
MotionSense Wave
Get an upgraded pulldown faucet with MotionSense Wave technology. As we previously stated, this feature improves hygiene. You don't have to touch the faucet to work it, and you can avoid contamination. Once you've experienced touchless operation, you won't go back.
Voice Activated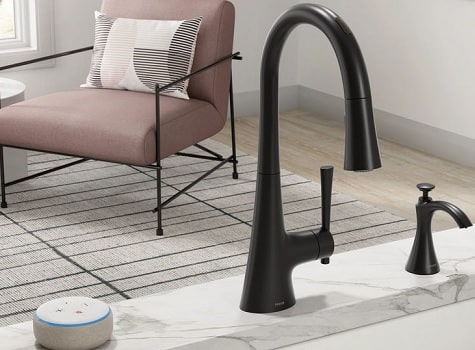 Why settle for hands-free technology when you can take it to the next level and talk to your faucet? You just need to connect it to your preferred device (Amazon Alexa and Google Assistant).
Bar Faucets
Reference the 9126 series because these are the same except they are built for a bar sink.
Save on Moen Kurv at PlumbersStock
No matter what you decide that you want to buy from the Kurv collection, you will have a hard time finding a lower price than what you'll see here at PlumbersStock. These new Moen Kurv kitchen faucets are stunning and will make your kitchen pop. If you are a contractor or need to buy bulk, we are happy to work with you on pricing. Do not hesitate to contact us, and we can work out a deal where you get pricing lower than what we're contractually allowed to advertise.