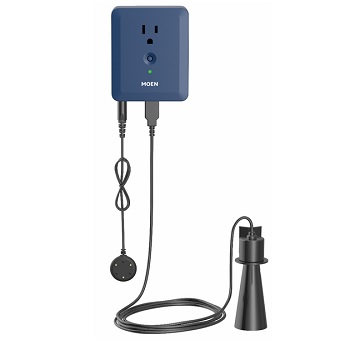 Coming soon!
One of the reasons that Moen is among our favorite brands here at PlumbersStock is that they excel in intelligent solutions for plumbing professionals and homeowners. What if we told you that you don't have to be home in order to turn on your sump pump in an emergency? We are excited to introduce the new Moen smart sump pump monitor. Homeowners can literally buy peace of mind when it comes to water damage from ingress (water from outside entering your home) flooding.
If you live in a flood zone, this device could be a figurative lifesaver. Anybody who has lost photo albums, baseball card collections, or experienced thousands of dollars in damages to flooding will tell you that this affordable invention can save you plenty of heartaches.
Moen S2000ESUSA Features
Retrofit Design – It will fit any existing sump pump rated up to and including 1HP.
Health Check – The sensor constantly monitors the water level in the sump pump basin and assesses flooding risks and pump efficiency in real-time.
24/7 Monitoring – Receive immediate notifications regarding potential sump pump issues through the smartphone app. There is also an audible siren when users aren't near their smartphones or if a power outage occurs.
Outage Alert – Get notified of a power or Wi-Fi outage, which can disrupt the pump from working correctly.
Backup Battery Testing – The Smart Sump Pump Monitor runs tests on the battery system so that you can ensure your backup is ready to go when called upon.
Leak Detection – A Remote Leak Sensing Disc connects to a long cable and monitors for unwanted moisture or water presence in the area around the sump pump. In addition to water breaching the pump, this sensor can also notify homeowners of a leaky foundation or fixtures.
Freeze Alerts – Protect against frozen pipes.
Humidity Monitoring – This feature will help homeowners to protect against mold.
Voice integration – Available with Amazon Alexa and Google Assistant.
Smartphone App Details
The Moen Smart Water App is available as a free download on the Apple App Store and the Google Play Store. If you download it, you can take a cruise around the app and see what you're in for.
Save on the Moen Smart Sump Pump Monitor
We can't wait to have this smart sump pump monitor in stock, and as soon as we do, you can be sure we'll list it for as low of a price as our partner Moen allows us to. No matter what you need, we've got a solution for you at a great low price. In some cases, we'd like to offer greater savings, but our brand partners prevent us from advertising them until we have a relationship with you. Sign in to PlumbersStock to see special pricing on certain items. If you are a contractor or otherwise a bulk buyer, contact us directly for even more potential savings.