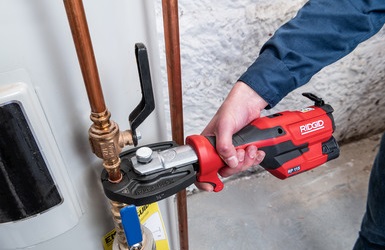 Quality press tools are an excellent example of why Ridgid is a top-of-the-line brand. Their engineers have designed the new Ridgid RP 115 mini press tool, and it's a beauty. It is ready for pre-order as of August 16, 2022. Because of its compact, single-handed jaw operation, this option gives you more access and convenience working in tight spaces with relatively small fittings. This size advantage is especially useful in residential work. Check out this lineup:
What are the key features of the Ridgid mini press tool?
The Ridgid Mini Press tool is the smallest and lightest press tool on the market. Its slim grip handle and optimized trigger provide excellent balance and a feeling of total control. Its head swivels at 210° for increased access to tight spaces, giving it an agile operating range.
Ridgid's Mini-Series Jaws is made with ProPress system fittings ensuring total system compatibility. It presses copper pipe from 1/2″ to 3/4″. It's a fantastic tool for residential jobs, delivering an impressive Ram Force of 3,300 lbs and operating with the Power Supply 12V Li-Ion Rechargeable Battery Pack, making it an efficient cordless tool.
Ridgid Mini Press vs. Compact, Standard, and Extended
The Ridgid Mini Press's biggest strength is its ease of management and simple-to-use size.

What is the function of a press tool?
If you need a refresher on the basics, a press tool allows you to join pipe using force to make a sealed connection, eliminating the need to solder, groove, braze, thread, or weld. Connections can be completed up to 50% faster than traditional methods and involve no open flame. A press tool also eliminates the need to drain and dry a water system, enabling fast, professional repairs, increased productivity on service calls, and quick fixes in your home.
Save on the Ridgid Mini press tool when you shop at PlumberStock.
No matter what Ridgid tool you are looking for, you'll find the best prices here on PlumberStock. The Ridgid RP 115 Mini press tool will be a best seller due to its impressive top-of-the-line functionality. If you'd like to order in bulk, please contact us, and we'll work out a deal with you. Remember, no matter which brand of press tool you prefer, you'll find the tools you're looking for at great prices here on PlumberStock. So contact us soon.