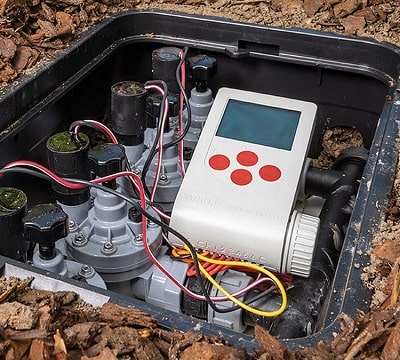 We are excited to announce the new Toro Tempus sprinkler controller. As you probably know, Toro is always coming out with cutting-edge products, and the Tempus is an example of their developers' ingenuity. There is more news! The Toro Tempus will replace and phase out DDCWP sprinkler controllers. Remember that no matter what type you want, this is the best place to buy battery-powered sprinkler timers.
Note: The Rain Bird ESP9V has been a popular series for a while, but there have been sourcing issues during the pandemic. If you can't find an ESP9V, the Toro Tempus is an excellent substitute with improved features. Compare the Toro Tempus vs. Rain Bird ESP9V before making a decision.
What great features does the Toro Tempus have?
Managing irrigation in areas without electrical connections has just become more streamlined. Not only is the Toro Tempus battery powered, but it also has wireless capability. With the Tempus DC mobile app, you can now connect your smartphone to the Toro Tempus controller allowing you granular control. With its water-saving features, irrigation run time can be set from 0% to 200% in increments of 10%. You can set your watering schedule for seven days, one day, or on/off-day increments. You don't have to worry about water waste with rain sensor compatibility. Rain sensors prevent irrigation while it's raining.
The Toro Tempus DC is completely waterproof and has eight new models available. Four with an LCD screen. Four without an LCD screen.
Tempus LCD Controller
You have four LCD display options from which to choose, all based on station count. A well-planned sprinkler system includes an efficient grouping of stations (segmented by the valves). You may see a four-station setup where one station covers the front lawn sprinklers. The back lawn is big enough to require two stations. Then the last station handles the drip irrigation (trees and bushes). You can get sprinkler manifold kits here at PlumbersStock. If you need four zones, get a kit with four valves. Here are the LCD controllers: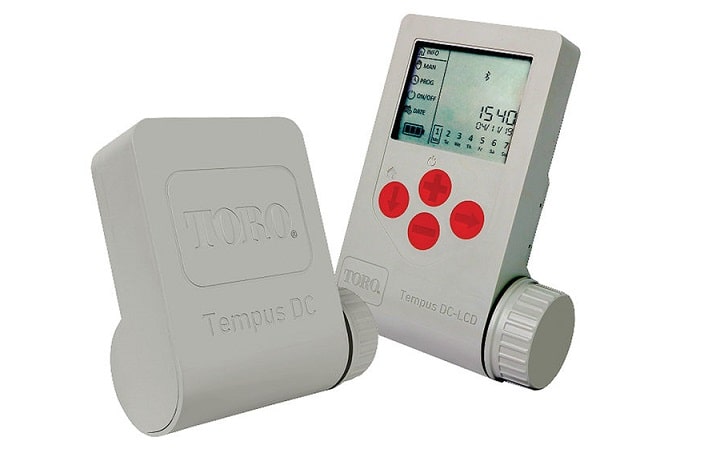 The option with the LCD screen (pictured on the right) allows you to read and control your timer and its stations manually. Or use your smartphone.
Non-LCD Tempus Controller
Again, four options:
In this case, you will need to control the timer with your smartphone.
Toro Tempus vs. DDCWP?
Since the Tempus is replacing the DDCWP series, customers are wondering what are the main differences? The control systems are what distinguish the Toro Tempus and the Toro DDCWP. The DDCWP control system is self-contained, which means you have to be physically present with the controller to adjust it. With the new and improved Toro Tempus, you can control it from the smartphone app.
What compatibilities does the Toro Tempus have?
Compatible with Toro, Irritrol, and Hunter DC latch-type solenoids. It's compatible with rain sensors to prevent water waste during rain.
Save on the Toto Tempus Controller at PlumberStock
No matter what sprinkler controller you are looking for, you'll find the best prices here on PlumberStock. The Toro Tempus will be a best seller due to its convenience and great functionality. If you'd like to order in bulk, please contact us, and we'll work out a deal with you. Remember that no matter what sprinkler controller you want, you'll find the best prices here on PlumberStock. So contact us soon.