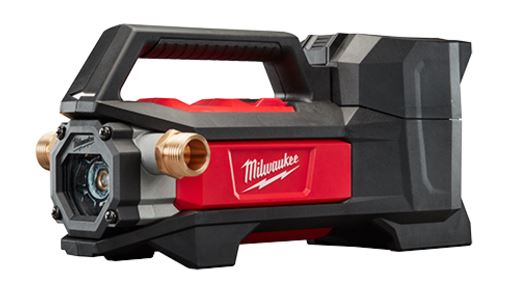 This is the first of its kind, the Milwaukee M18 transfer pump operates with the use of a REDLITHIUM battery that gives you the flexibility you need for tough jobs. In the past, batteries haven't been cost effective enough to give you the power you need for big jobs. That has all changed now with Milwaukee's cordless pump technology. We are currently running great deals on the following:
If you already have an M18 REDLITHIUM battery, then you don't need the entire kit, just the pump only. Because contractors are constantly using their batteries up throughout the day, it's a good idea to have more than one. In this Milwaukee M18 transfer pump review, we will explore some of its best features:
Milwaukee M18 Transfer Pump Features
It is self-priming, which makes it convenient to start up.
It moves up to an astonishing 480 gallons per hour.
The 18v REDLITHIUM battery delivers up to 240 gallons on one charge. Doing the math, that means it can run for 30 minutes straight. You can now see why a professional might carry 2 or 3 batteries on his/her person.
The M12 transfer pump generates up to 18′ of lift, meaning it can move fluid that is located 18′ below the pump.
It produces up to 75′ of head height, meaning it can move fluid up to 75′ away from the pump (on the same lateral level).
REDLINK technology automatically shuts down the pump once it is no longer moving fluid. This safeguards against overload and pump damage. This will prolong the health of your tool for years.
Milwaukee's website states that the M18 battery works with 40 different power tools, but it's more like 100 by our count.
The way the pump is configured allows you to see fluid passing through it so that you can give it a quick eyeball inspection.
The inlet and outlet connections are 3/4″ brass hose threads.
If you've ever replaced pump parts, chances are you replaced the impeller. This impeller is very easy to replace, with just 4 Philips head screws.
The tool is under warranty for 5 years.
For your reference, here is the operator's manual.
Save on Milwaukee M18 Transfer Pumps Online
You may be partial to other tool companies, but the fact of the matter nobody else is offering you this solution. It may be time to switch to Milwaukee Tool Company. There is no time like the present and no better place than PlumbersStock. We have great deals on quality tools, and for plumbers and plumbing projects, we have the best pumps.