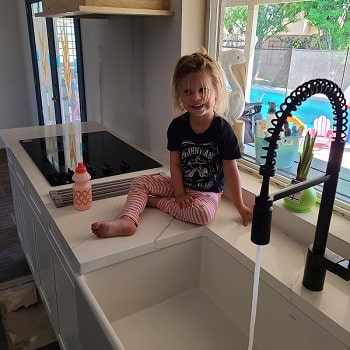 My wife and I had been planning to remodel our kitchen for a few years, and a mold issue behind the dishwasher expedited the process. This accident expedited the process. Instead of repairing the damaged cabinets, we had the insurance company cut us a check to spend on a complete remodel. If you can get over living with torn-out cabinets and then a remodel for months, then this is what we call a happy accident. It paved the way for our new Moen farmhouse kitchen remodel. Maybe our experience will inspire you to overhaul your home's layout, just like we did.
Scroll to near the end of the post to see before and after images.
What Did We Do?
Every kitchen is different, and in some cases, you may keep all your appliances or maintain your layout. We did not. The sky is the limit, so get as creative as possible.
Sink and Faucet
We wanted the kitchen sink to be a focal point. We love farmhouse style with the apron front, and white was the only option we considered. We actually bought an Elkay sink, but it arrived with a chip on the corner (FedEx's fault). The manufacturer didn't have anything in stock to replace it, so I got a refund through PlumbersStock. They handled all of that for me. Maybe this was a blessing in disguise because I got a wider 33-inch model, the Moen farmhouse sink (FC331910). I initially went with Elkay because they have a strong reputation for making quality sinks. Moen is fairly new to the sink game, but this one was highly rated, and I saved a little money.
There were no misgivings about what faucet we wanted. Although we weren't sure about the color, we had been eyeing this Moen Align faucet (with MotionSense Wave) for a while. This Moen soap dispenser perfectly complimented the faucet, and the black air switch was a fun touch. The switch, of course, operates the fancy new 3/4 HP InSinkErator disposal. And we needed a black disposer flange to match everything else.
Layout Changes
The house was built in 1982, when open concepts must've been less popular. Not only did we have a dividing wall secluding anybody who sat in the dining room from all other social areas of the home, but we had unnecessary ceiling soffits making everything feel cramped. We knocked out the wall and removed the soffits to raise the ceiling. It feels incredible now.
Basically, everything in the kitchen moved except the sink and dishwasher spots. We ended up with more living areas and more cabinet space. The appliances (Whirlpool) are all new, except the fridge.
We also realized we need to replace the dining room table. It doesn't look great with all the bright white. It's also a tall table, and getting a normal height will look better in contrast with the high counter, putting them on different levels.
Before the Remodel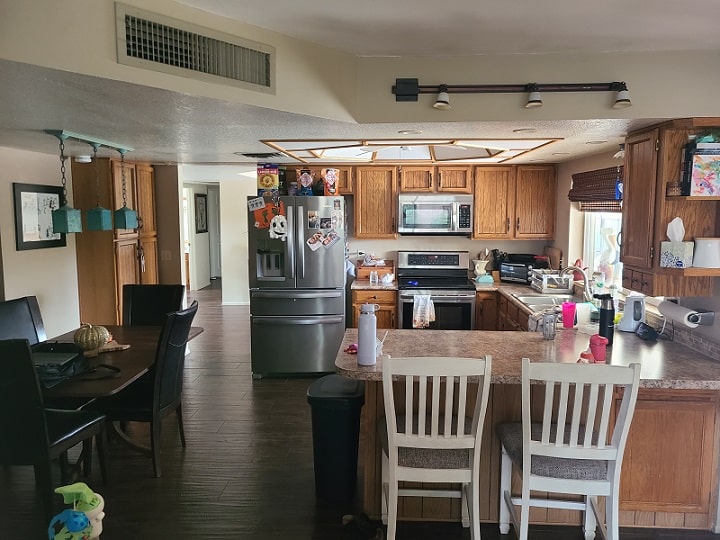 After the Remodel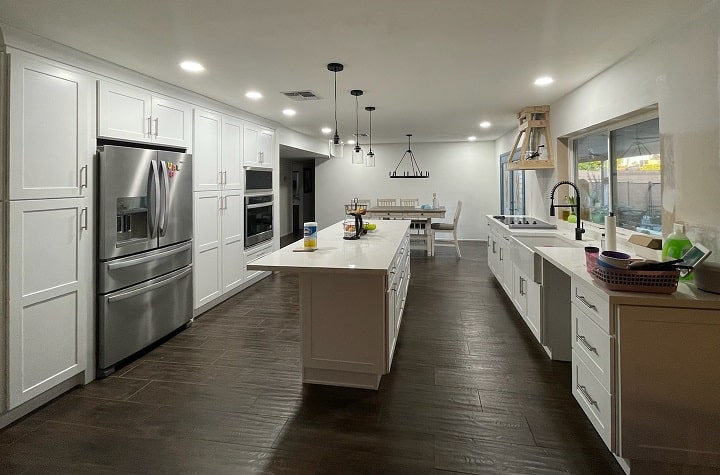 This isn't quite the finished product. We still need to complete the custom-built vent hood (we used a Broan vent), install floating shelves, and do the subway tile on the wall. I will post those pics later when it's all done.
What Did I Learn?
I had a great idea at the beginning of the whole process. I went to a public online forum in a community I am familiar with, and I asked for any ideas or suggestions that people had. Lots of stuff I would never have thought about came to light. For example, one great tip was for cabinets below your waist; drawers are easier to access than doors. I'm getting older, so this made sense to me, and I like how it works in practice. Another great tip was to forego a smart faucet. People said it overly complicates things, and touchless is the way to go. There was a lot of debate over single basin vs. double bowl sinks in that forum, but we went with one bowl because that's what the wife wanted.
What Do I Wish I Had Done?
I don't have too many opinions. I just let my wife run the show, and then I throw in suggestions on the rare times when I know that I have a better idea. I held strong for matte black over her suggestion to install the brushed gold Align faucet. We now are both happy with that choice. The one thing that I did want that she squashed was a glass rinser. I think these things are so awesome, and she didn't give one hoot about it.
Save on Your Moen Farmhouse Kitchen Remodel
I saved some money shopping with PlumbersStock, and right now, with the way things are with sourcing, it was nice to find all my plumbing solutions in one place. Did you know that if you are a contractor or somebody who buys bulk, you can take advantage of further savings? PlumbersStock's brand partners prevent them from advertising lower prices, but PlumbersStock can offer the lower price to the customer once they have a relationship. Sign in to PlumbersStock to see special pricing on certain items. If you are a contractor or otherwise a bulk buyer, contact them directly for even more potential savings.