by Brett Thomas
Moen makes incredible faucets and the Moen S72608SRS (Etch spot-resistant, stainless, one-handle kitchen faucet) is no exception.  Homeowners who have put it to the test rave about its ease-of-use as well as how convenient it is to install and clean.   It offers many great benefits (detailed below) and features.  You cannot go wrong with this faucet.
Details about the Moen S72608SRS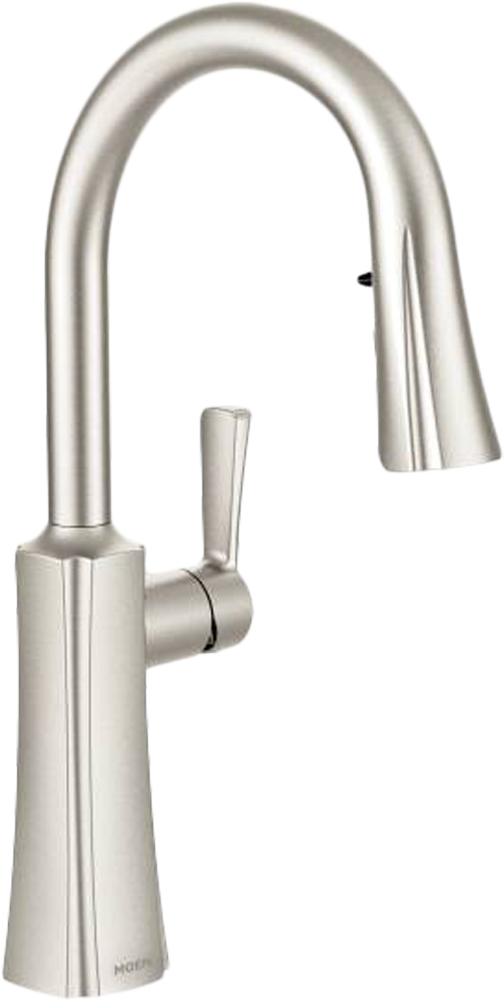 It's no surprise that this stainless kitchen faucet is gaining popularity.  It is designed to stay clean and shine, even with extended use. This particular model offers a convenient single-handle, a high arc, and is just the thing you need to keep your kitchen shining brilliantly.
There are so many great benefits to installing this particular faucet in your kitchen:
Clean look – If you have stainless appliances in your home, you know just how hard they can be to keep clean.  The nice thing about this unique faucet is its ability to resist water spots and fingerprints.  It keeps your fixture looking nice and makes your kitchen appear sparkling clean.
Quick connect feature – If you are going to be installing this faucet on your own, it's not very difficult.  The quick connect feature makes it easy to install this faucet with few tools required.
Pull down design – The pull down design makes it easy to wash dishes and fill up large pots and pitchers.
Easy to use handle – This particular model comes with an easy to use one-handle lever.  If you have your hands full, you can easily turn on the water with one hand or even use an elbow.
Water flow adjustments – It's easy to adjust the flow of water on this faucet.  You can have an aerated stream for everyday cooking and cleaning, or a more powerful flow for all your heavy-duty needs around the kitchen.
Single hole mount – Single hole mounts look sleek and stylish.  They are easy to keep clean and look great installed on custom countertops.  The Moen S72608SRS offers a single-hole mount configuration and looks great in almost any kitchen.
Limited lifetime warranty – Moen is a popular brand for not only kitchen faucets but faucets and other hardware throughout the home.  Because they have so much faith in their products they put a limited warranty on them.  If you have any problems with your new faucet in the given amount of time, you can rest easy knowing that your faucet comes protected by this warranty.
Cooking and Cleaning Made Easy with Moen Kitchen Faucets
Hopefully, this Moen S72608SRS review has been helpful.  It comes with many added features and can be just that thing you need to put the finishing touch on your kitchen.  If you yearn for a faucet that is easy to keep clean while cooking and cleaning, you should definitely give the Moen S72608SRS a try today.
Take advantage of all our reviews and other helpful resources on the PlumbersStock blog.