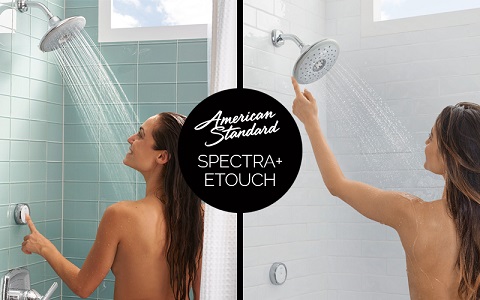 There is an awesome new bathroom collection on the market, the American Standard Spectra+ Touch showerheads. There are four different options in terms of functionality, and then there are four different finishes for each option for a total of 16 Spectra Touch showerheads.
From traditional hand-operated to touch-operated units with adjustable spray patterns, the Spectra Plus Touch and the Spectra+ eTouch will help you achieve your desired level of comfort. Not only are they beautiful, but they are also loaded with features. Whatever you're looking for, you'll find a wide array of available showerhead options here at PlumbersStock.
Here are the four model options in the Spectra Plus collection:
Whether you're designing a whole new bathroom or looking for a replacement showerhead, it is best to be informed before you make a big purchasing decision. Shower faucets last for a long time, so spending a little extra time and/or money can go a long way.
Spectra+ Features and Benefits:
These Spectra+ Touch and Spectra+ eTouch showerheads will make your life easier with state-of-the-art technology. The custom preferences give you a shower experience like never before! These multi-spray heads offer 4 different patterns so you can select one that best suit your needs: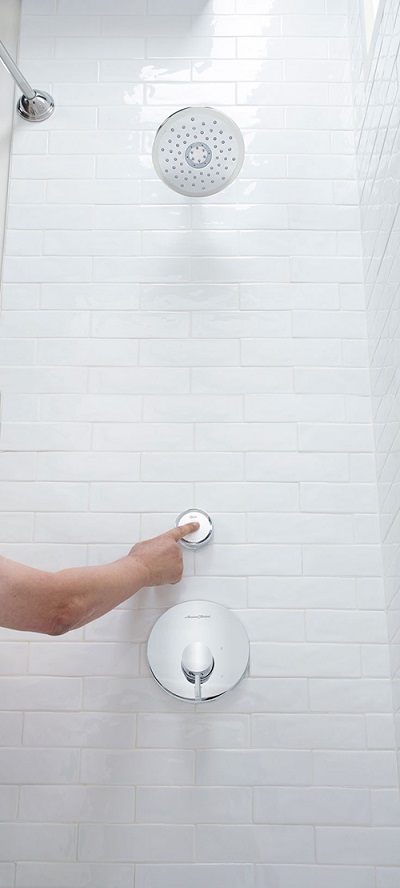 Drench – as the name suggests, this one drenches the user.
Sensitive

 – for gentle, soothing coverage; a fine spray that is soft on the skin.

Jet Spray

 – for targeted water pressure.

Massage

 – for pulsating coverage and a therapeutic effect.
To change the spray mode, simply touch the outer ring or edge of the showerhead (this is why they call it Touch)! What differentiates the eTouch option is that it come with a wall-mounted remote. The remote can be placed wherever is most convenient to users.
Spectra Finishes
There are four different finishes and you will love the variety. Choose from polished chrome, brushed nickel, legacy bronze, or polished nickel. You should pick a color that will match your existing fixtures and hardware.
Flow Rate and Pressure Compensating Flow Control Device
Spectra+ showerheads offer come in two different maximum flow rates: 1.8 gpm and 2.5 gpm. It is an efficient shower that will help you to conserve water and energy. The Spectra+ showerheads have a permanent built-in compensating flow control device to ensure a constant flow over a wide pressure range.
Easy Clean Spray Nozzles
The cleaning process is very easy, particularly when it comes to the removal of lime and calcium build up. Believe it or not, you can massage clean it using your finger.
Installation Type
They are designed for a wall mount installation.
WaterSense-Certified, CAL Green-Compliant, and CEC-listed
At PlumbersStock, we strongly recommended you choose showerheads that meet or exceed WaterSense, CAL Green, and CEC requirements. These WaterSense-certified showerheads help you reduce water consumption by up to 30%. Why not save money while you conserve, right?
The Spectra+ Touch and Spectra+ eTouch showerheads are award-winning products, and American Standard has now set the, uh, standard. Because of their superior innovative design, they were named a Good Design Award Winner for 2017 by The Chicago Athenaeum: Museum of Architecture and Design. They also were the 2017 Architectural Record Winner and won 2nd place Bathroom Product of the Year in the Kitchen and Bath Business Product Innovator Awards.
Rain Showerhead Options?
There are in fact Spectra+ 11″ Rain showerheads. They do not offer Touch technology, but the diameter of the showerhead creates a unique shower experience. Just like with the Touch options, these come with two different flow rates and four different finishes:
Save on American Standard Spectra+ Touch Showerheads
Regardless of which option you're going with, you'll be hard-pressed to find a better price or better service anywhere else. Did you know that we have the flexibility to work with contractors to get an even better price? Say you are a contractor and you're looking to buy 20 of these showerheads, do not just add to cart and check out. Please contact us directly and we'll be able to work out a better deal. We love working with businesses and we want you to come back! If you have any remaining questions about American Standard Spectra+ Touch showerheads, please leave a comment below.