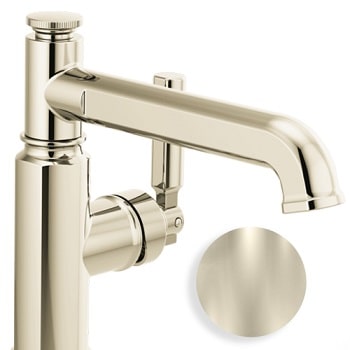 We are excited to announce the arrival of Brizo Invari in polished nickel. Customers have asked about this since the original Invari was released in 2019. The Brizo Invari bathroom collection offers a stunning range of fixtures and accessories to give any bathroom a unique and luxurious look. With a focus on style and functionality, this collection offers eye-popping aesthetics, making this a popular remodel trend. The collection includes faucets, showerheads, tub fillers, and accessories like towel bars and robe hooks. As Brizo describes the collection,
The Invari Bath Collection by Brizo celebrates a modern revival of classic forms. Each graceful nuance expresses a liberated traditional ethos—neither beholden to the past nor forgetful of its heritage.
One of the most notable achievements of the Brizo Invari collection is the attention to detail in the design of each piece. Every collection element has been carefully crafted, from the sleek lines of the faucets to the brilliant colors to provide a cohesive and elegant look.
See all polished nickel Brizo Invari products.
Polished Nickel Brizo Invari Faucets
One of the standout pieces in the collection is the Invari widespread bathroom faucet. These faucets feature a timeless design, and this collection has several options. The high-arc version is most popular because it provides ample clearance for washing your hands or filling the lavatory sink:

Medium height spout (no polished nickel version of this)
And there is the wall-mount T65776LF-PNLHP (pictured) which is technically widespread.
Don't forget about ECO (water-efficient) options for each above!
You will notice there are several handle options in this collection. You can go with cross handles or the more common lever handle or get funky with crystal knob accents. Remember that you will find these tub and shower trim styles, but they aren't interchangeable. The valve trim handles are specifically made for that and won't work as lavatory faucet handles.
What Else Is There?
Well, of course, there is also a single-hole configuration (pictured at the top of this post) for a bathroom faucet. The single-handle 65076LF-PN may be the most popular faucet in the whole collection. And, of course, there is also an eco-friendly option (1.2 GPM, 65076LF-PN-ECO).
If you are looking for solutions for your tub and shower, try the Roman tub faucet (T67476-PNLHP) with a hand shower. If you have a floor-mounted configuration with a claw-foot tub, then you need a tub filler like this T70176-PNLHP, which also includes a hand shower. And if you are in the market for a matching shower head, then go with this 87476-PN multi-function shower head.
There is plenty more to the collection, so make sure you check it all out.
What Are the Other Finishes?
The Invari collection has various finishes from the original release. You may have seen the collection in chrome, Luxe gold, Luxe steel, Luxe nickel, or polished gold. This variety lets you choose the perfect finish to complement your bathroom decor. The finishes are aesthetically pleasing and durable, ensuring that your fixtures last for years.
Shop Brizo Invari Faucets in Polished Nickel
Unsurprisingly, the Brizo Invari bathroom collection is a stunning range of fixtures and accessories designed to provide style and functionality. That is why it's been such a popular choice for remodels. Once you decide it's right for your bathroom, add it to your cart. Check out the entire Invari series in polished nickel here. You can save on Brizo Invari faucets in polished nickel when you shop with the plumbing pros at PlumbersStock. In some cases, Brizo does prevent us from advertising lower prices. However, we can offer lower prices once we have a relationship with the customer. Sign in to PlumbersStock to see special pricing on certain items. If you are a contractor or otherwise a bulk buyer, contact us for even more potential savings.