Any contractor will tell you that the Moen Align collection is one of the most popular solutions for kitchen and bathroom fixtures. Recently, Moen re-released some of the fixtures in trendy brushed gold. Homeowners have been eating this stunning finish up. The best selling kitchen faucets right now offer the semi-industrial exposed-spring style, often referred to as pre-rinse. We're excited to announce that they are now releasing new brushed gold Moen Align kitchen faucets! In addition to that, MotionSense Wave technology is available on a few new models.
Brushed Gold Spring Pulldown Align Models
There are two different models to consider here, starting with the Align Spring pulldown faucet (5923BG). This model was already available in chrome, stainless, black stainless, and matte black. Now it will probably be more popular than ever.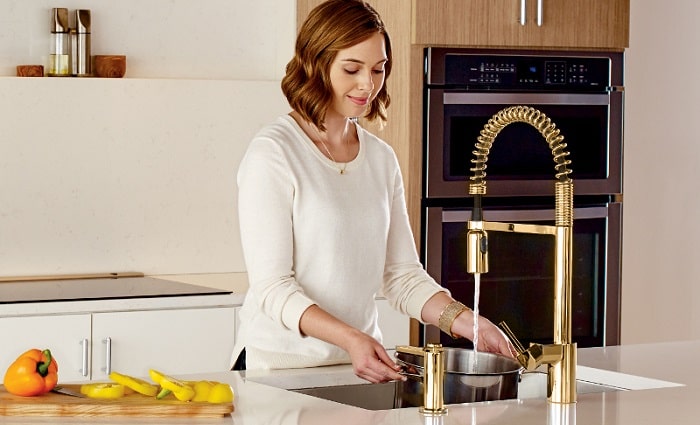 The other model to consider is the Align Spring pulldown faucet with MotionSense (5923EWBG). So you may be asking, what is MotionSense Wave technology? It is a hands-free solution for operating your faucet. Not only does this feature improve hygiene and safety, but it's so convenient. As is the case with the standard model, you can already get MotionSense pre-rinse style faucets in chrome, stainless, black stainless, and matte black.
As the manufacturer describes it, Faucets with MotionSense feature touchless activation, allowing you to easily turn water on and off with the wave of a hand. The Ready Sensor detects any object, like a cup or a hand, making everyday tasks easier for you. The Wave Sensor detects your hand movement to activate water flow. Wave goodbye to dirt and germs and wave hello to hands-free. The handle offers familiar, manual operation, allowing you to adjust temperature and water flow.
MotionSense Wave on Standard Pulldown Align Models
In this same Moen product release, they announced five new Align models with MotionSense Wave technology. If you like something a little more elegant and traditional, then you will love this design.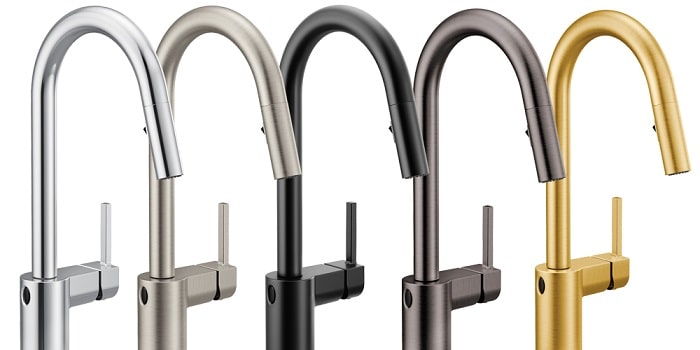 In addition to hands-free convenience, these beautiful kitchen faucets offer other fun features. For example, they rotate 100 degrees. Their DuraLock technology makes connecting the faucet into a simple task. With patented PowerClean spraying force, you get a lot of pressure out just 1.5 gallons of water per minute.
Best Selling Align Faucets
As you probably know, we've been selling Moen Align for quite some time, and there are definitely a few fixtures that truly stand out to customers. In addition to the popular kitchen models we've already mentioned (5923 and 7565), their single-hole lavatory faucets are a trendy choice. You have two different faucet height options: 6191 (Low Arc) and 6190 (High Arc).
For shower faucets, customers like the big shower head on the T3292 (Moentrol shower trim only). And last but not least, if you're looking for a Roman tub filler, then try the T6193.
Save on Brushed Gold Moen Align Kitchen Faucets
We're proud of our partnership with Moen because they are a renowned name in the plumbing industry. Take, for example, their intelligent M-Core valve system that's changing the shower game. Our partnership with Moen does not allow us to advertise discounts below their set price floor, but we are willing to go lower, and we can once we are in talks with you, the customer. If you are a contractor buying in bulk, then contact us! We'll work something out. We can give you great deals that you won't find anywhere else.