There are two new Elkay fireclay farmhouse sinks here at PlumbersStock. We've carried the original two for a while and they were such a hit that Elkay followed them up with more variety. Also commonly referred to as apron-front sinks, farmhouse sinks are in style and they are also very functional.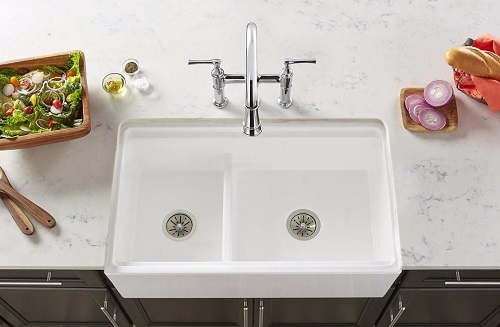 The two new additions to the collection are:
And the models we already had in stock include:
What's Special About Fireclay?
There are many reasons why fireclay is appealing from both an aesthetic and functional viewpoint. The material is molded from fireclay and porcelain glaze, which results in a smooth, non-porous surface. The material is dense which results in reduced sound, as well as condensation. Here are some basic guidelines for proper maintenance:
Wash sink with soap or vinegar-based cleaner, a sponge, and a dry towel.
Water marks can be removed with a damp cloth and then dry towel.
For difficult stains, try a 50-50 solution of water and bleach or nonabrasive cleaners.
Avoid strong chemicals.
Hot pans should not directly touch the fireclay sink.
You must run cold water when pouring boiling hot water down the drain.
Why Are These Farmhouse Sinks So Popular?
In addition to the apron-front, sound-reducing, non-porous design, here is a quick rundown of all the other features: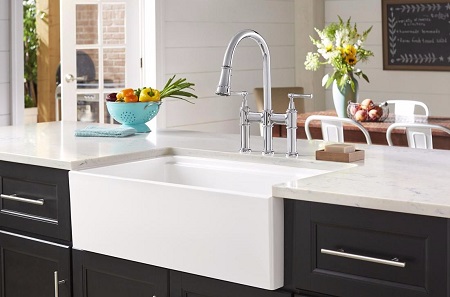 The sink can both be installed with a flat front or with a decorative band at the top.
The surface of the sink material is stain and scratch resistant.
The bowls are extra deep, which means there is more room for getting work done, like stacking dishes and filling big pots with water. We recommend you look bowls large enough to handle cookie baking sheets. They can be such a nuisance in a small sink.
Fireclay sinks are compatible any standard-sized drain fittings, so finding a match will be easy.
The drains are strategically placed in the center of the bowls with the opening measuring 3.5″.
Buy Elkay Firehouse Farmhouse Sinks at PlumbersStock
If you're in the market for a new sink, you've come to the right place. We have great prices on all the Fireclay Farmhouse sinks by Elkay. If you have trouble finding what you need or have any questions about the installation or the product itself, please do not hesitate to contact us. While you're shopping here, you might as well grab an Elkay basin grid to go with your new sink.