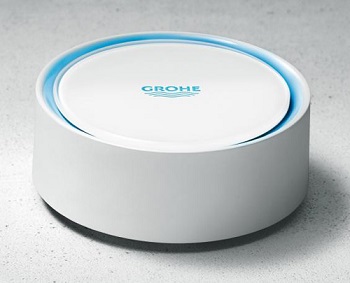 At PlumbersStock, we are very excited about the release of the new GROHE Sense smart home water sensor system. It's an innovative way for homeowners to prevent water damage and waste. Think about it, we're all busy and we don't have time to remember to check our plumbing connections frequently, and even if you do have the time, major issues can arise and cause horrible damage in a matter of a couple hours. GROHE's solved this problem with GROHE Sense technology. There are three main solutions to choose from, as well as a few accessories:
There are two different types of sensors with different capabilities, so let's go over that now. You may find this infographic helpful: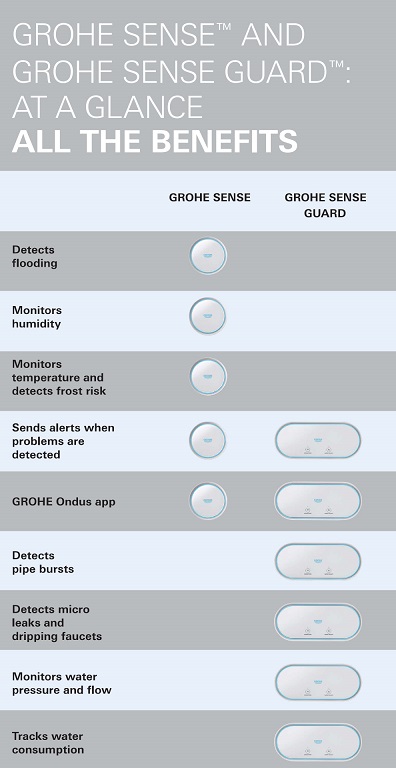 GROHE Sense Sensors
These smart water sensors (22601LN0) will detect and thus help to prevent water damage. They detect leaks on the floor, they sense humidity, and temperature/frost risk. You can manage it all through the GROHE Ondus app on your smartphone. As the manufacturer puts it, GROHE Sense monitors temperature and humidity levels and gives warning if the levels become too high or too low compared to your set thresholds. When water touches the base of the sensor due to leaks or flooding, GROHE Sense alerts you instantly so you have time to react.
One great advantage to these sensors is they are incredibly easy to install (no mounting required). The extension kits (22506LN0) allow you to place extra sensors around the house, particularly in hard to reach places that are prone to leaks and flooding.
Sense Guard Controllers
The great thing about Sense Guard smart water controllers (22503LN0) is that they detect burst pipes, micro leaks, dripping faucets, monitor water pressure, and track consumption. Just like with the sensors, you can manage it all through the Ondus app. Sense Guard not only alerts you, but it also gives you remote control of your water. This smart home technology can save you big money in the long run. Though the Sense Guard controller requires mounting, it is still fairly easy to install with the mounting set (22603000). If you don't have a power source near the installation point, that's where the extension cord (22521LN0) will come in handy.
Water Security Kit
Last, but not least, this is a complete solution that includes both a Sense Sensor, and a Sense Guard Controller, along with the following parts and accessories:
Handy transport tool box
Sense Guard wall mounting set with 1″ connection (22603000)
Mounting nuts with R3/4″ connection
Power extension cable (22521LN0)
Batteries (22601LN0)
Extension set (22506LN0)
Buy GROHE Sense Smart Water Solutions at PlumbersStock
No matter what you want from this new product release, we've got it here at a great price. Shop and save on all GROHE supplies with the plumbing professionals, and tell your friends all about this new innovative solution for homeowners so they can prevent costly damage, too. Save on GROHE Sense online.