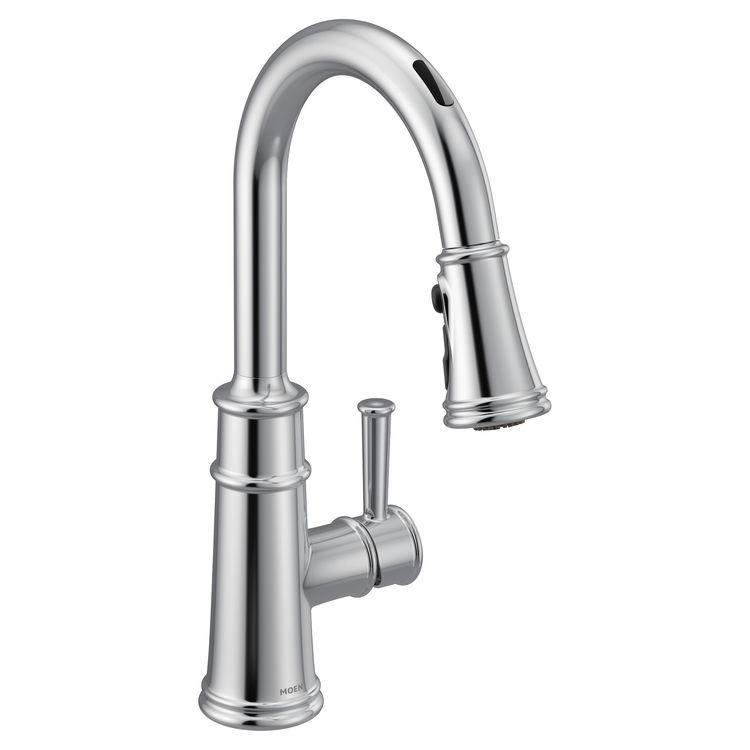 Everybody loves the Belfield collection for good reason. It offers a sort of vintage style that is timeless and will look great in your home. The manufacturer has recently released new Moen Belfield kitchen faucets, and you should be familiar with all the features and options. Moen leads the industry with its innovative spirit and knack for quality construction.
One of the most exciting options is the 7260EV (pictured here at the top) which includes the capability to integrate with your Amazon Alexa or Google Assistant device. That way, you can control your faucet with voice-activated technology (more on that later). If you want something less complicated but still cutting edge, try the MotionSense Wave technology, which we'll address.
New Belfield Pulldown Faucets
The majority of this release is pulldown faucets. Here are the standard options without all the bells and whistles:
Features include Duralock quick connect system, Reflex retraction, a 1255 Duralast cartridge, PowerClean spray technology, ADA compliance, and they operate at 1.5 gallons per minute.
MotionSense Wave
Get an upgraded pulldown faucet with MotionSense Wave technology which improves hygiene and convenience through touchless operation. Just wave your hand in front of the sensor to turn the faucet on and off.
Voice Activated
Why settle for touchless technology when you can talk to your faucet? These models are compatible with Amazon Alexa and Google Assistant.
Bar Faucets
This is pretty much exactly what you get with the 7260 series, except it's built for a bar sink.
Matte Black Side Spray and No Spray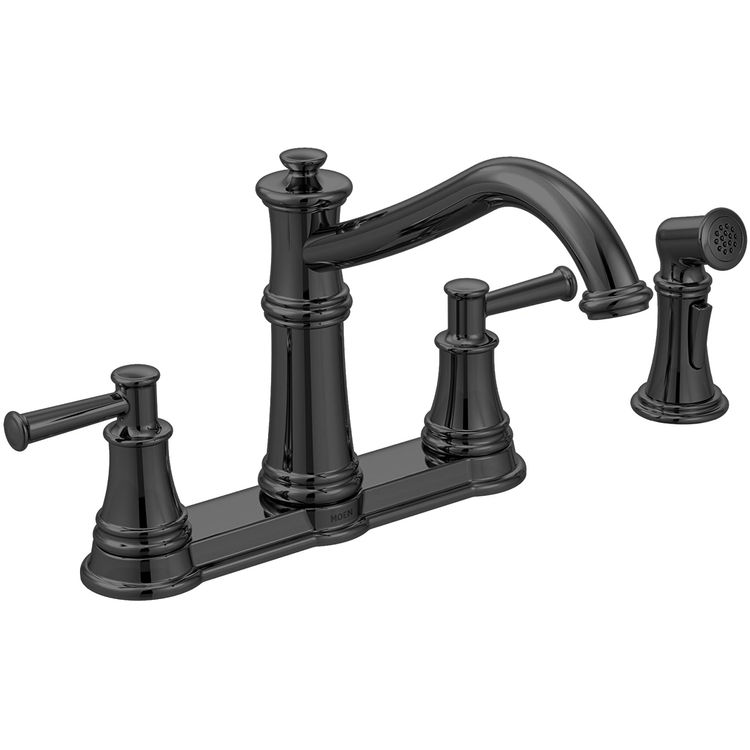 There are just a few more models to mention in this release. You've seen all these faucets before, just not with this finish.
You will love the way these elegant fixtures look in your kitchen. Features include a 1255 Duralast cartridge, ADA compliance, and they operate at 1.5 gallons per minute. The spray options offer Duralock quick connect, Reflex retraction, and PowerClean spray technology.
Save on Moen Belfield at PlumbersStock
No matter what you want from the Belfield collection, you know you won't find a lower price than here at PlumbersStock. These new Moen Belfield kitchen faucets are stunning and will make your kitchen pop. If you are a contractor or have a big project and you're looking to buy bulk, we are happy to work with you on pricing. Do not hesitate to contact us, and we can work out a deal where you get pricing lower than what we're allowed to advertise.