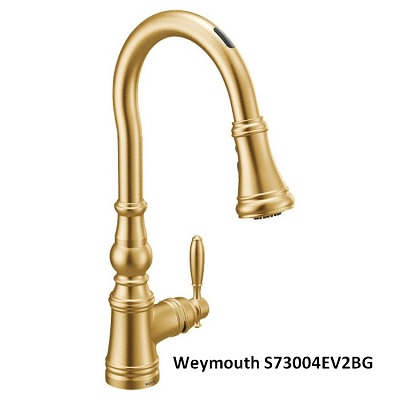 We are excited to introduce the new Moen smart kitchen faucets that are additions to the Nio, Paterson, Sinema, and Weymouth collections. Moen is a manufacturer renowned for its ingenuity and cutting-edge technology. They are constantly releasing top-of-the-line plumbing products that make life easier. These new intelligent faucets perfectly demonstrate that fact.
What Are the Features?
These smart faucets offer touchless operation with advanced sensor technology. What's unique is that you can control water flow and temperature using simple hand gestures. On top of that, these faucets allow for voice activation and app-based features. It's compatible with Amazon Alexa and Google Assistant. If a user prefers the good old-fashioned way, operate the faucets with their single-handle design.
These new intelligent kitchen faucets are just as functional as they are convenient. With PowerClean™ spray technology, the smart faucets provide 50 percent more spray power compared to typical pulldown/pullout faucets. The aerated stream is also powerful and efficient. Each faucet has the Reflex™ system for smooth operation, easy movement, and secure spray head docking.
Nio Smart Faucets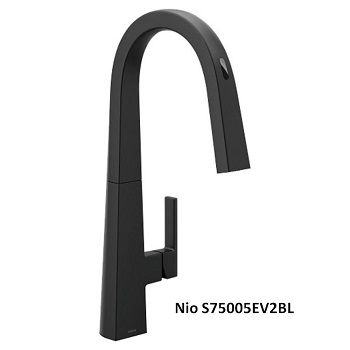 You can read about the original 2019 Nio release here. As the manufacturer explained the Nio collection, The kitchen is often the most popular space to mix finishes as it's likely to have the greatest number of fixtures. Nio allows consumers the opportunity to embrace this trend with a simple swap that carries a big impact. Check out the four color options:
Paterson Smart Faucets
You can read about the original 2019 Paterson release here. As the manufacturer explained the Paterson collection, Industrial chic refers to an aesthetic that derives its inspiration from urban architecture. Moen is truly embracing this trend with the unique design of Paterson, which was named after the first industrial city in the U.S. – Paterson, N.J. Check out the three color options: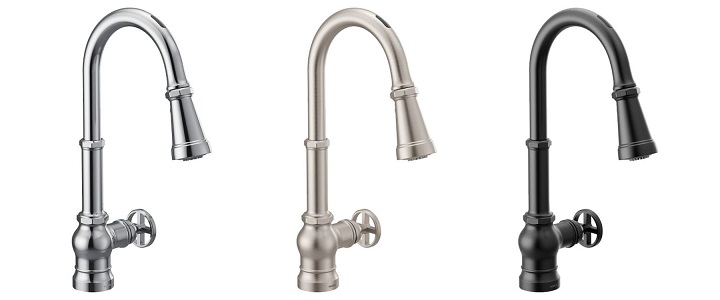 Sinema Smart Faucets
You can read about the original 2020 Sinema release here. As the manufacturer explained the Sinema collection, Inspired by cinema architecture and the Art Deco movement, this collection merges traditional and modern style cues to create the luxurious curves and forms that give the Sinema collection a distinct Hollywood flair. Check out the four color options:

Weymouth Smart Faucets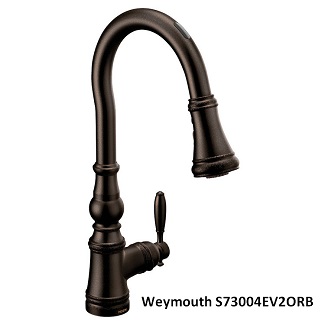 As the manufacturer explained the Weymouth collection, Warm, inviting and full of charm, the modern farmhouse trend redefines traditional kitchen design. Inspired by this trend, Moen is giving its iconic Weymouth® collection a thoughtful upgrade with new pulldown faucets that offer added convenience without sacrificing beauty. Check out the six color options:
Save on New Moen Smart Kitchen Faucets
No matter what Moen kitchen faucet you are looking for, you'll find the best prices here at PlumberStock. If you'd like to order in bulk, please contact us, and we'll work out a deal. If Moen doesn't do it for you, we have plenty of other reputable brands for kitchen sink faucets.