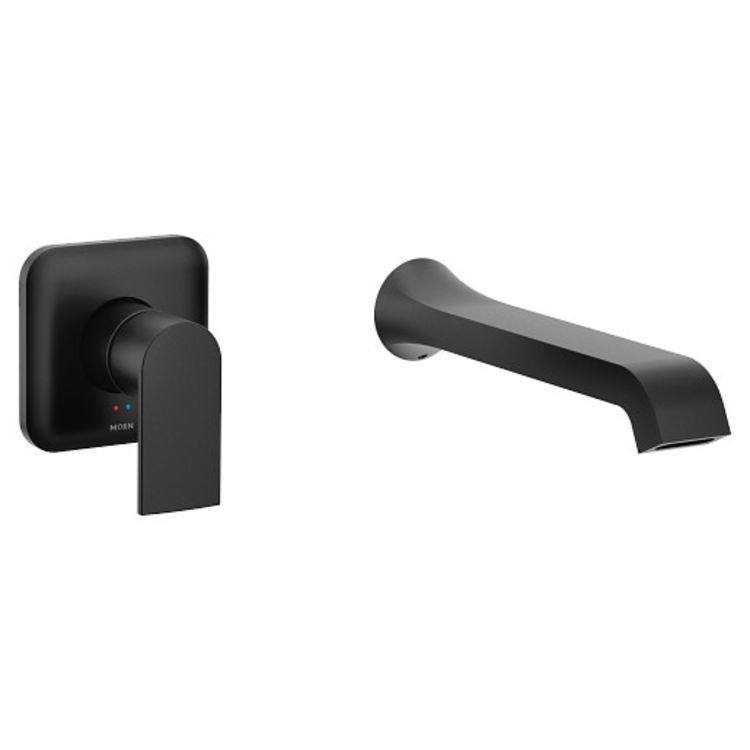 We are proud to announce the release of new Moen wall-mount tub fillers, which neatly blend easy use with, style, grace, and convenience. The wall-mounted configuration leaves you with a more spacious and inviting tub. You'll find the right fit for you and your home with these various styles. With high flow capabilities for a faster tub fill-up time, to get you in and out of the tub quickly or get you in and relaxing in no time. Moen offers the best engineering and beautiful designs.
When is the Release?
The new Moen tub fillers will release in three phases over the next few months. Phase one is already available for order. Rough-in valves will be available on August 4th, 2022.
What Is in Phase 1?
There are new tub fillers in each of the following collections: the Genta, Align, Gibson, Cia, Colinet, Doux, and 90 Degree series.
Genta Tub Fillers
In Moen's own words, "The Genta bath suite boasts contemporary, curved edges for an appealing, yet substantial style that brings a sleek feeling to the Bath."
Spouts only:
Align Tub Fillers
Align faucets will bring a refreshed, modern look to your home. The simple lines and fashionable styles are beautiful.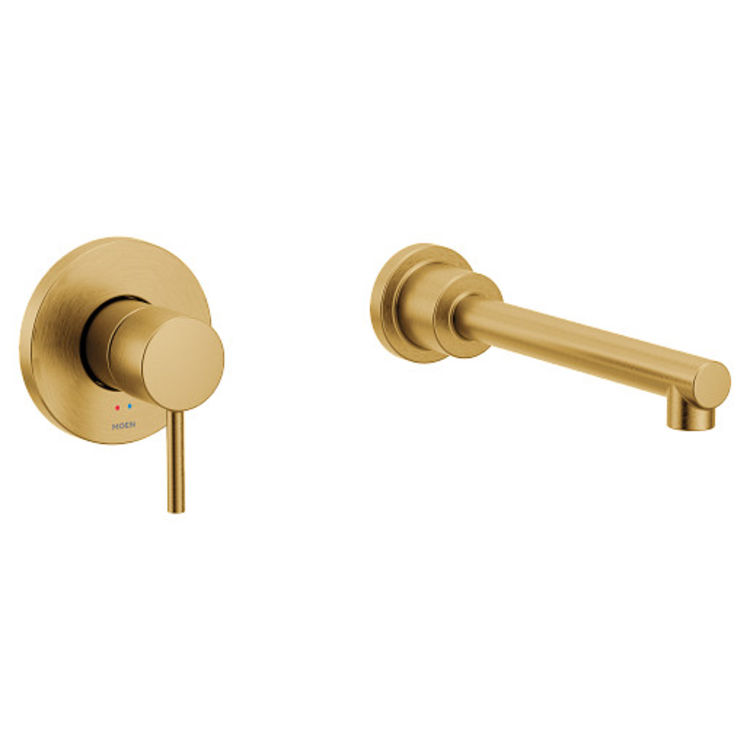 Spouts only:
Gibson and Cia Tub Fillers
The Gibson and the Cia series use the same spout. They offer the best modern style and technology with breathtakingly stunning faucets. The spout's contemporary curves and the handles' defined edges combine with elegant details for a classic yet fresh look.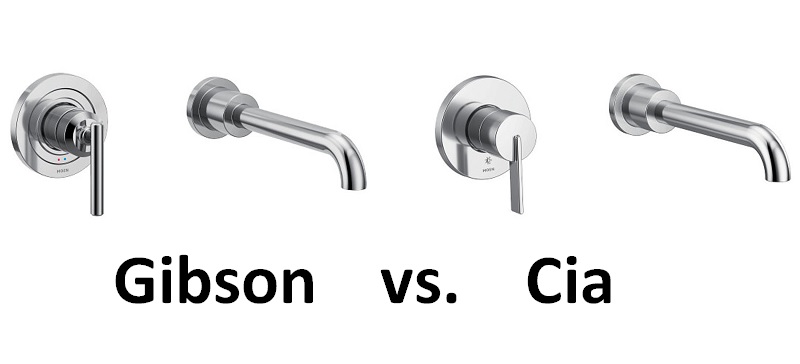 Gibson trim kits:
Cia trim kits:
Colinet Tub Fillers
The Colinet series is distinctive. Depending on which finish you fancy, it can be the essence of traditional beauty with chrome or brush nickel, a glamorous functionality with the gold trim, or a chic and clean industrial look in matte black. Colinet, according to Moen, is inspired by colonnette, a small, slender column in architectural design.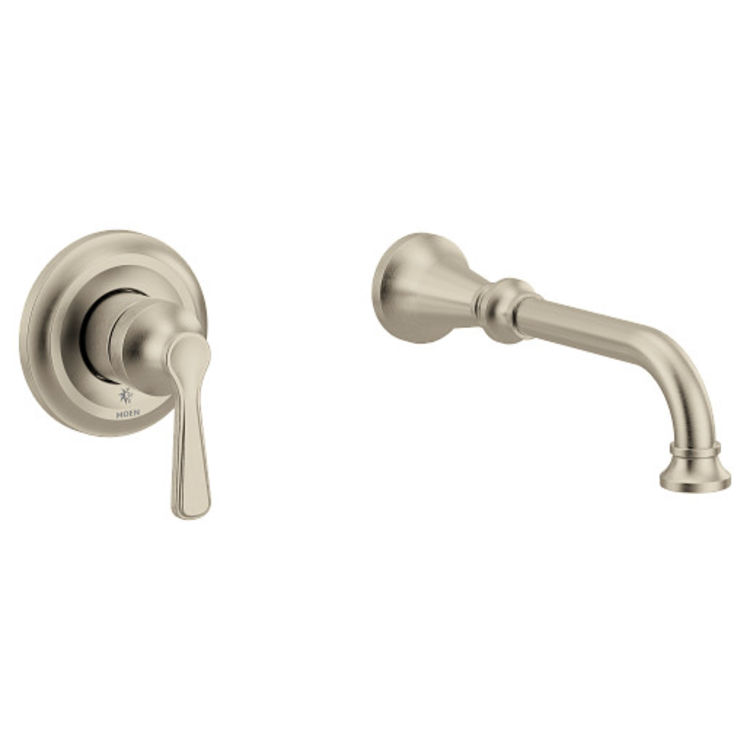 Spouts only
Doux Tub Fillers
New to the Doux series, it sports a graceful arc and unique, soft-stream water flow to make Doux the perfect modern look in the bathtub. Its D-shaped spout was carefully crafted for a smooth, wide, and clean form, which presents the water in a flat, gracefully thin ribbon form.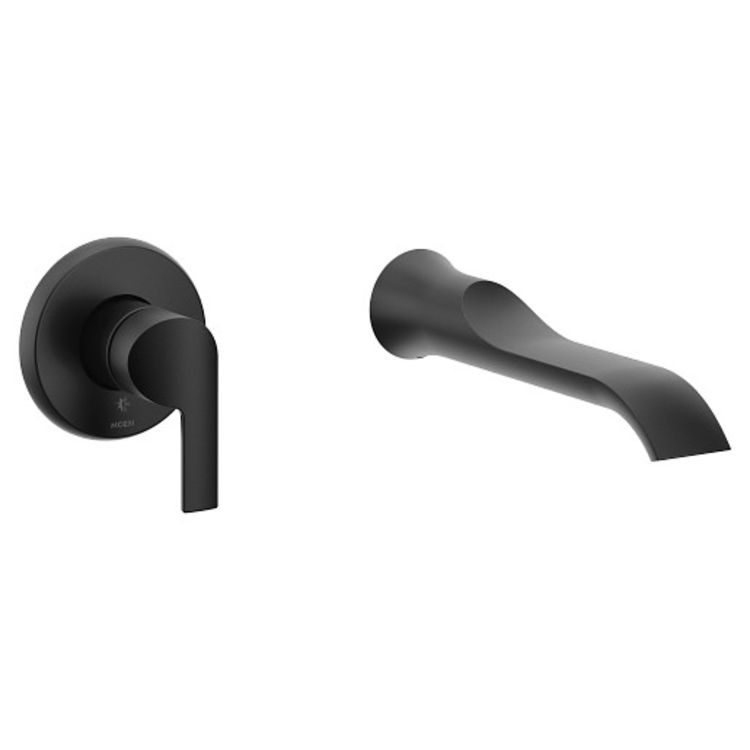 Spouts only:
90 Degree Tub Fillers
The 90 Degree series displays ultra-Modern styling, with its geometric forms, squared corners, and straight lines, giving it a beautiful yet minimalist style.
Spouts only:
Chrome 90 Degree (WTS3898) 10-inch wall mount tub filler spout
 Brush Nickel 90 Degree (WTS3898BN) 10-inch wall mount tub filler spout
Coming Soon!
Phase 2 will consist of the Flara and Voss series. Phase 3 will include the Glyde, Dartmoor, and Belfield series.
Save On Moen Wall-Mount Tub Fillers at PlumbersStock
Whichever Moen tub filler you set your heart on, you'll find the best price here at PlumberStock. These new Moen tub fillers are in high demand. Due to their variety of styles, there is one that will fit anyone's style. If you need to order in bulk, contact us directly, and we'll work out a deal with you. Remember, if a wall mount tub filler isn't for you, we have a wider variety of tub fillers, from the elegant freestanding tub filler to the simpler in-tub fillers. So there is something for you here at PlumberStock. Order yours soon. We have you covered no matter what kind of bathtub faucet you need.