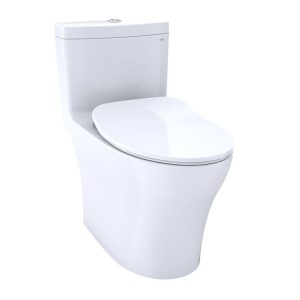 The summer of 2022 brings us exciting news about changes to one of our favorite TOTO collections, the renowned Aquia IV series. In September, almost the entire lineup is getting a refresh. This means old models will be phased out and replaced by the latest models with updated features. With one glance at the features and a peek at the designs, it's easy to see why our customers love TOTO Aquia IV toilets. With literally hundreds of TOTO toilets at friendly prices, you've come to the right place.
What's new in the Toto Aquia IV series?
The updated models have a larger water retention spot (55% larger) in the bowl. The water spot is the surface area of the water. This is a benefit because it's easier to maintain a clean toilet and prevent clogs. In the new Aquia IV series, regular height toilets are slightly shorter than the predecessor (5/8 of an inch). If you choose a Universal Height version of an Aquia IV toilet, then there is no change to the updated models.
On top of those fantastic upgraded features, the list pricing on the new Aquia IV series will remain relatively the same!
What about other features from the old models that I loved?
The Aquia IV series will carry over essential features. For example, the Dynamax tornado flush is still going strong. It's a powerful, ultra-high efficiency dual-nozzle water propulsion system with 360 cleaning power to reach the whole bowl for a powerful and efficient flush. The CeFiONtect ceramic glazing keeps waste sticking onto porous ceramic surfaces. These things, in concert, provide a cleaner and more efficient toilet for you and your home. And for the Aquia IV toilets that had dual flush before the upgrade, that feature has also carried over.
Which key TOTO Aquia IV toilets are being phased out?
The entire list is lengthy, so let's focus on some popular models. Keep in mind that many of these new models look the same as the item phasing out. If you aren't sure what's an old model and which is new, the updated model item numbers have an 'N' to distinguish them.
What's new with the one-piece models?

We are also getting updated two-piece models

Bowl updates
Please take note that you cannot match new bowls to old tanks and vice versa.

Tank updates

Save on new 2022 Toto Aquia IV toilets at PlumberStock
Whichever TOTO Aquia IV toilets you fancy, you'll find the best price here at PlumberStock. These new toilets project to be best sellers due to their impressive functionality, graceful aesthetic, and relatively inexpensive pricing. If you'd like to buy in bulk, don't hesitate to contact us directly to work out a deal. Remember, no matter what kind of toilet brand you prefer, we have all your favorite manufacturers and great prices, so choose discount toilets at PlumbersStock.