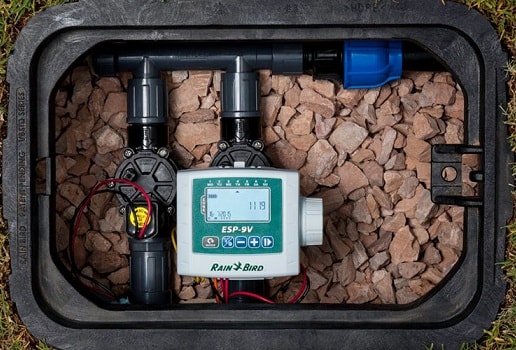 There is a new sprinkler controller in town, and it's changing the game. Rain Bird ESP-9V battery-operated sprinkler timers is a great solution for homeowners who need to install irrigation valves away from a convenient source of power. Rain Bird is the best when it comes to irrigation solutions. These innovative timers operate off two 9-volt batteries (standard alkaline) and that battery power should last more than two years. Before discussing the features, we want to list all the products in this series:
Rain Bird ESP-9V Controller Features
There is a lot going on with these timers, which isn't immediately apparent. The ESP-9V's are waterproof, including the battery chamber. It can withstand the harsh elements in a wet, muddy valve box, even. According to Rain Bird:
After being submerged in water at alternating extreme hot and cold temperatures the ESP-9V was still going strong after the competition failed in less than two days.
We'll further discuss Rain Bird's rigorous testing later, but for now, we'll stick to additional features, like that the ESP-9V timers are easy to program. They come equipped with large LCD screens, and the programming icons are simple to interpret with just a little bit of tinkering. You can schedule your waterings or run a manual watering at your discretion. Here is a complete list of features:
Controller Features
The aforementioned waterproof case
Dual-sealed battery chamber with rubber insert and O-ring
IP68 certified (this means it is protected against dust and water intrusion)
Large LCD display
The program memory maintains your schedule, even if the batteries die (non-volatile, 100-year)
Mounts within the valve box or on a wall
The controller case is resistant to weather, yellowing, and aging
Sensor input with bypass override
Master valve/pump-start circuit (this is only available with multi-zone units, obviously)
Rain sensor bypass for all zones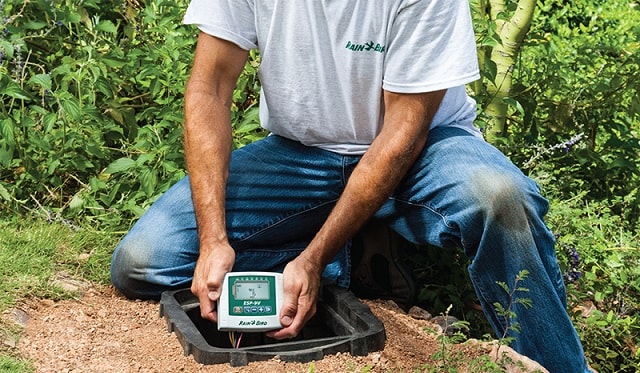 Scheduling Features
The most common programming features are accessible on a single screen
It eliminates confusion by showing the run times, start times, and watering days for each zone
If you accidentally schedule two zones to irrigate simultaneously, the timer will water the lower number zone first.
Dedicated manual watering button with options for all zones or single zones, all on demand
Contractor Rapid Programming™ is a feature that automatically copies the start times and scheduled days from zone 1 and pastes them to all remaining zones at initial setup (with manual override available, of course)
Contractor Default™ allows user to save and restore the irrigation schedule
ESP-9V Timers Have Endured Incredibly Rigorous Testing
Rain Bird created a new industry standard with innovative testing that came along with the release of this time series. They wanted to see how these timers would respond to water-filled valve boxes in extreme temperatures. They used competitors' controllers as control groups for the testing and submerged the controllers in saltwater, repeatedly. Then they exposed the timers to hot and cold temperatures in intervals, over four days.
The results: Rain Bird proudly declared that the ESP-9V series timers lasted 70% longer than the competition. The competition didn't make it past day 2, and the ESP-9V was still operating after the test concluded. In order to ensure maximum protection for your valves and timer, go with a trusted valve box, like this 18″ Rain Bird Maxi Jumbo.
Save on Rain Bird ESP-9V Controllers at PlumbersStock
You will love your new timer, but if you want a hard-wired option, we have plenty of sprinkler timers to choose from. If you have any remaining questions about Rain Bird products, please comment here, or you can take a more direct approach and chat us (chat feature available on the main site) or just call us at 435-868-4020.
Did you know we offer customers free sprinkler designs? You can submit information about your yard and needs, and we'll have a trained professional get back to you with a design, shopping list, and instructions. You are not obligated to buy any of the supplies from us, so take advantage of this one of a kind offer.