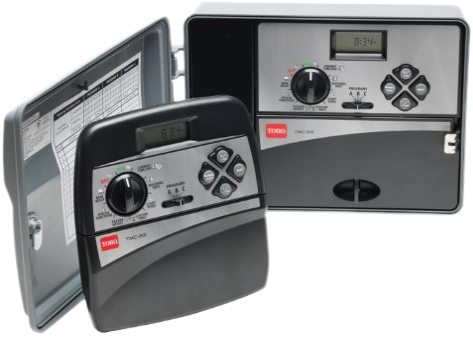 by Cliff Kimber
The Toro TMC-212 is a great timer choice for homeowners everywhere.  It's designed for flexibility and to meet its customers expectations.  The TMC-212 has a lot of amazing features and is built to last (consider another timer if you need a controller that can brave the elements).  If you are looking for a quality controller for your sprinkler system the TMC-212 may be an excellent choice for you.
A Sprinkler timer allows homeowners to reliably and conveniently water their lawn and plants.  Program the ideal schedule based on your climate and season for the greenest grass.  As you browse through this Toro TMC-212 review, consider the many features that makes it stand out from alternatives.

What Is a TMC-212?
The TMC-212 Series is a programmable sprinkler timer and controller.  At PlumbersStock we carry the 4-station option.  It's a small scheduling device that will automatically control your sprinklers so you don't have to worry about it.  Once you program your sprinklers to run based on ideal settings, you can just sit back and watch the green grass grow.
Toro TMC-212 Features
The TMC-212 has a lot of amazing functions.  It's easy to install, easy to use, and the perfect choice for someone who is looking for a sprinkler timer that is built to last.  Here are some of the amazing features you will find in a TMC-212.
Three Completely Independent Programs with Four Start Times Per Program – This makes it easy to water exactly how you want when you want.
4 Stations – The TMC 212 is perfect for individuals with a small to medium sized yards.
Memory that Stores Information Up to Five Years – The TMC-212 has a non-volatile memory which doesn't require batteries.  It will hold programming information for up to five years.
Indoor or Outdoor – One of the nice thing about the TMC-212 is that you can install it indoors or outdoors depending on your needs.
Surge Protection – Surge protection on a sprinkler controller is very important.  It will keep lightning and other power outages from destroying your controller, forcing you to buy a new one.
Toro, the company which makes the TMC-212 has been around for a long time.  They started their company in 1914 and since have grown to become the leading worldwide provider for irrigation parts.  Because they have been in business for so long they truly know everything there is to know about irrigation parts and how to best make them.  You know that when you buy a part from Toro that you are getting a quality product that you can trust.
Buy the Toro TMC-212 at PlumbersStock
There are so many great functions that come with the TMC-212.  Whether you are looking for a controller that has up to twelve stations, can be indoor or outdoor, offers surge protection, and even contains a variety of programs and options, this Toro timer is the thing for you.  If you are in need of a controller for your sprinkler system, then this amazing product is definitely something you should check out.  Let us know if you have any questions about our Toro TMC-212 review.
We have plenty of other irrigation-related resources on our blog, so check them out.