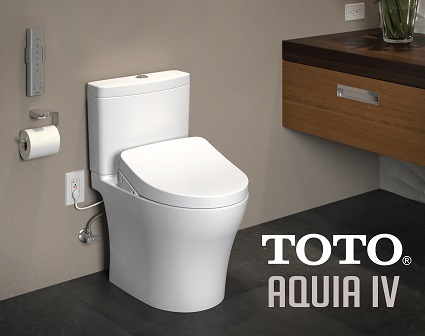 We've reached the fourth generation of one of the most popular toilet collections in the world, the new TOTO Aquia IV. PlumbersStock has proudly carried past iterations, and our customers loved them. TOTO is known for being one of the most technologically innovative plumbing manufacturers on the planet, and their specialties are toilets and bidet seats, particularly WASHLETs. If you're interested in updating your master bathroom with all the bells and whistles, then you should strongly consider the Aquia IV Toilet w/ WASHLET. At the time we are publishing this post, we have four different options for that:
Remember, we have all kinds of options. If you want a toilet, you can get that. We'll cover those in a minute, but for now, we're going to talk about features for the options with included WASHLETs.
Aquia IV Toilet w/ WASHLET Features
Whether you get it with a 1.0 gpf max or E-Max flush, or an S500e vs. the S550e, all four of the aforementioned toilet models include:
Dual Flush – whether your max gallons per flush is 1.0 or 1.28 gpf (E-Max), you have the option to select 0.8 gpf when less flushing power is required.
Tornado Flush – according to TOTO, this technology uses gravity plus significant centrifugal force to move waste. It operates with the use of two nozzles, instead of rim holes, which helps to make it such an efficient use of water. All of this results in a cleaner bowl with less maintenance.
CeFiONtect – formerly known as Sanagloss, this is a smooth glaze that prevents particulates from adhering to porous, ceramic surfaces. It's an ion-barrier for your toilet bowl, and that means less cleaning for you (and lessens the need for using harsh chemicals).
The only difference between the S500e and the S550e is that the S550e has an auto open/close lid with a night light. These are all the features that they have in common:
Rear and front spray
Heated, SoftClose seat with a slim design
Self-cleaning wand (with on-demand cleaning)
In the cases of these Aquia IV's, the supply connection is concealed for seamless installation (T40 WASHLET+ connection)
Hands-free dryer
Deodorizer
eWater+ pre-mist
Instant water heating
Remote control with two user settings
Check out this helpful infographic we made for the 1.28 gpf E-Max Aquia IV w/ S500e: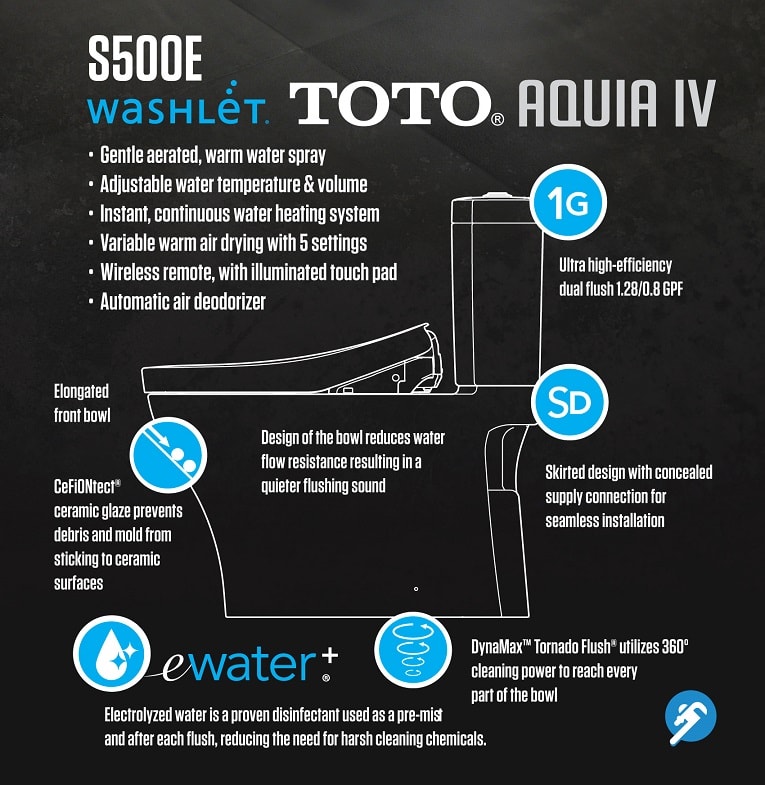 Aquia IV Toilets
Basically, there are four different options in terms of features, and then you can get some of those in up to five different colors: colonial white, cotton white, bone, Sedona beige, and ebony*. You can get the:
standard Aquia IV, or get it with 1.0 gpf max (in both cases, look for MPN's that start with "CST", like with the CST446CEMG#01). Or,
get it with a WASHLET+ connection and SoftClose seat, or get those two features with 1.0 gpf (in both cases, look for MPN's that start with "MS", like with the MS446124CEMG#01).
if you are looking for a real fancy solution, try the TOTO Aquia Wall-Hung In-Wall Tank Toilet.
No matter what you are looking for, you'll find the right Aquia IV here. Please do not hesitate to contact us if you have any questions about this collection. We hope this TOTO Aquia IV review has been helpful to you. Please share it on social media if it has.
*be aware that ebony doesn't come with CeFiONtect glaze.