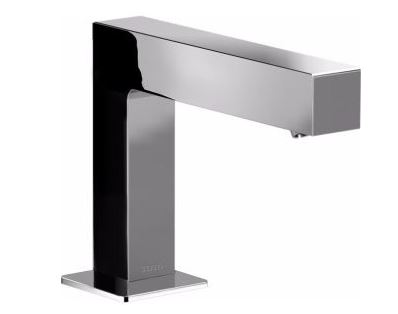 For a smoking deal on a high end lavatory faucet that offers incredible functionality, try the Axiom collection. It's a favorite among many of our commercial customers, and we're about to count the reasons why. There are six different options for this fixture that we will cover in this Toto Axiom EcoPower faucet review.
Each model is suitable for both residential and commercial application. They each offer ten seconds of continuous discharge and the motion sensor sets its own range.
TEL-141-D10E#CP – flow rate is 0.18 gallons per cycle, 10 second cycles
TEL-141-D10ET#CP – flow rate is 0.18 gallons per cycle, 10 second cycles; Thermixer included, meaning it can run hot water
What Are the Toto Axiom EcoPower Features?
The great advantage to touchless faucets in commercial applications is that you can really improve the hygiene in that restroom. In addition to that, it actually helps with conservation. On average, the self-generating hydropower system (EcoPower) will save you money on your water bill, as opposed to lever-controlled lavatory faucets.
What is Toto EcoPower?
The innovators at TOTO have devised a way to power sensor-operated faucets using their patented EcoPower system. The water itself supplies the energy for operation. When the water flows through the faucet, the high efficiency turbine allows the system to store the power. The battery can last up to 19 years!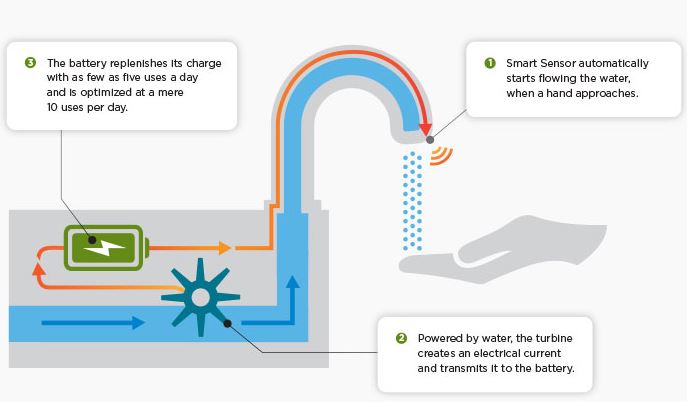 Other Features
As you might imagine, the faucets are CalGreen compliant, ADA compliant, and comply with CA AB1953, VT S152 and MD HB.372.
Surprisingly, these faucets are simple to clean with its easy-access screen. You will want to ensure you do not scratch the sensor when you clean the spout. Don't ever use powders for cleaning/polishing fixtures. It will likely damage the sensor. Use a dampened soft clot with diluted dish detergent.
Toto Axiom EcoPower Faucet Maintenance
Toto recommends you check your faucet monthly for leaks. Depending on what sort of install you have*, there are different methods for tightening the faucet.
The owner's manual also contains detailed instructions on cleaning the strainer, the nozzle, as well as adjusting the temperature. Check the owners manual for more info.
The warranty covers the original purchaser for a period of 3 years and it has to be installed in North America (probably not going to be a problem for anybody reading this). It's a limited warranty, so you aren't covered for everything.
Now that you know all about the features and benefits of installing this amazing line of fixtures, be sure to shop and save on the Toto Axiom EcoPower lavatory faucet at PlumbersStock.com!
*deck-mount vs Helix wall-mount vs Gooseneck wall-mount…in this case it is a deck-mount.