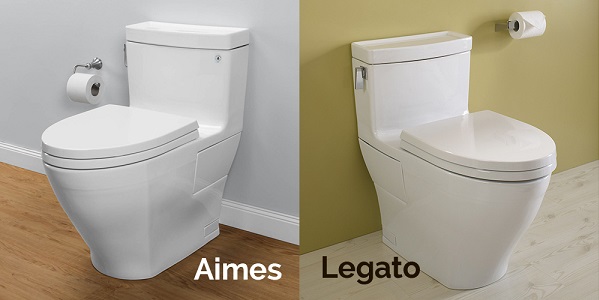 We've got some innovative new bathroom solutions in this TOTO toilets release, summer 2018. There are also quite a few complete bathroom sets being released, like the GS and the GR, which we will cover here on the blog at a later date. For now, we're going to talk about these awesome new toilets. No matter what TOTO fixtures you get, you're going to love it.
Before we get into the products, we need to explain some of the features. All of these toilets come with CeFiONtect ceramic glaze (formerly referred to as Sanagloss by TOTO). The seat designs are modern and slim and SoftClose means you will be limiting noisy disturbances for sleeping babies and partners.
Aimes & Legato One-Piece Toilets
There are lots of cool features to enjoy with the TOTO Aimes toilet (MS626234CEFG#01). It uses just 1.28 gallons per flush (Tornado flushing system). It comes with a WASHLET+ connection so that you can easily integrate a WASHLET bidet toilet seat. The Aimes also comes with a SoftClose, slim seat.
The TOTO Legato toilet w/ WASHLET+ (MS624234CEFG#01) has all the same features as the Aimes. The distinguishing characteristic between the two toilets is the design. One of the most popular toilets we carry is the TOTO Legato One-Piece (no WASHLET+).
Connelly Two-Piece Toilets
Though it's similar in style to the Aimes and Legato, there are some major differences with the TOTO Connelly toilet (MS494234CEMFG#01). One distinction here is that the Connelly has dual flush technology, meaning you can choose to use 1.28 gpf or 0.9 gpf (save water when there is less waste to flush).
And remember, this is a two-piece configuration, so if the tank cracks someday, you don't have to replace the whole thing. This reasoning probably only makes sense if you plan on being in your home for a long time.
If you need a replacement toilet seat, whether we're talking about the Connelly, Aimes, or Legato, then this Slim Elongated SoftClose Seat is what you're after.
RP Wall-Hung Toilets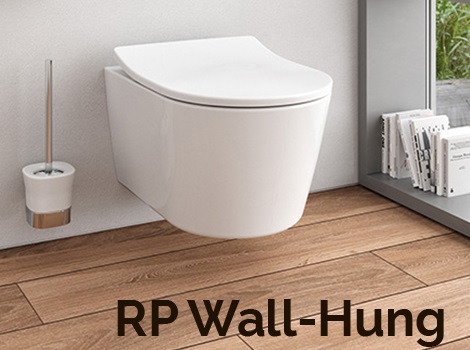 This is a really unique installation, popular in both commercial and residential applications. You can buy the TOTO RP toilet with the in-wall tank (CWT447247CMFG#WH), or you can buy them separately. This same toilet also comes in matte silver. There a few more products in this series:
The toilet systems come with the round push buttons (either in white or silver), and we have replacements for those. If you want to upgrade to the square button option, we have that in both colors, too.
Neorest NX1 Toilets
The TOTO Neorest NX1 truly provides a luxurious bathroom experience for any homeowner. It's a big ticket item, but the design is one of a kind and there are so many features you will get tired of reading bout them. It's tankless, which makes your master bathroom feel more open and look more modern. The Neorest NX1 toilets operate at 1.0 and 0.8 gpf, you decide. It includes a built-in WASHLET (electronic bidet) with a heated seat, comfortably warm rear and front spray, a warm air dryer, a night light, and eWater+ for maintaining a cleaner bowl with less effort on your part.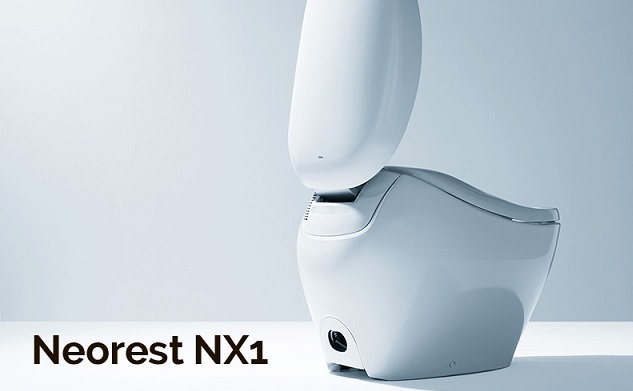 Aquia IV Two-Piece Toilets
This is a great solution for some people that are priced out by the Neorest NX1. You can get the Aquia IV two-piece toilet (CST446CEMFG#01) without a WASHLET, or you can get it with an S500e (MW4463046CEMFG#01) or spring for the Aquia IV with an S550e (MW4463056CEMFG#01). The Aquia IV is a Universal Height toilet, and much like the Neorest, it has an option to operate at 0.8 gpf.
Save on TOTO Toilets Release with PlumbersStock
If you have any questions about this new TOTO toilets release, please leave a comment or you can contact us more directly via phone, email, or chat (chat feature on the main site). You can save big when you shop with PlumbersStock for TOTO toilets. Also, you can go with a tried and true solution with this TOTO UltraMax MS854114SL#01.