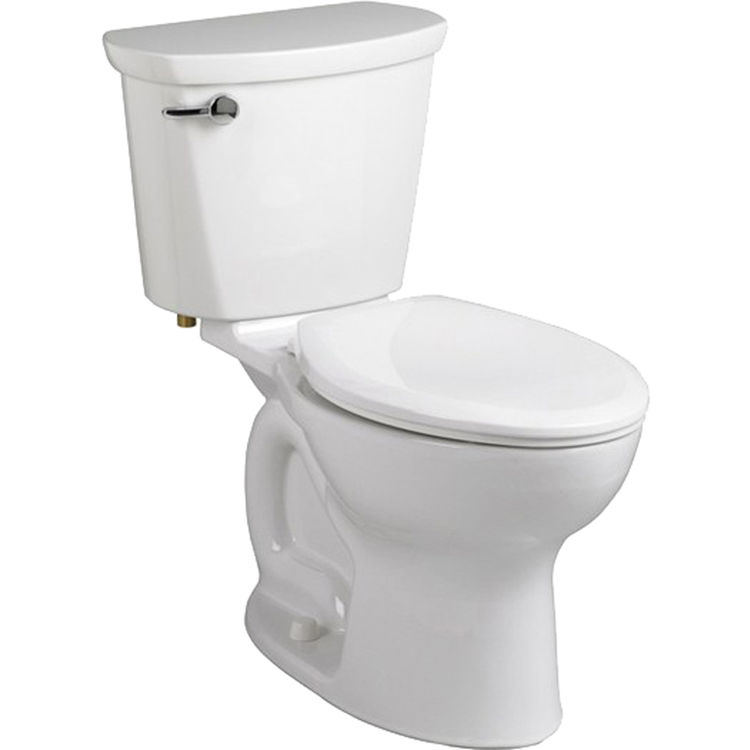 by Cliff Kimber
Over the past few months, I have been swamped building a new home for my family and me. This post (and a few more to follow) will discuss the products I chose to install and why. The first fixtures I will be highlighting are the toilets. There is a lot of talk in the plumbing community comparing TOTO vs. American Standard toilets. I like both brands and feel both companies make great products. PlumberssStock has been selling toilets from both brands for years, and I've been relying on what their sales reps told me and what their product brochures claimed. I had to find out firsthand and install one from each company.
From the American Standard lineup of cost-effective toilets, I chose the American Standard Cadet Pro 215C.A104.020. This is a trendy model and one of American Standard's best-selling units. However, to conform to popular water-saving ideals, American Standard has recently changed this model from 1.6 gallons per flush to 1.28 gpf. Time will tell if this remains a hot seller.
Features of the Cadet Pro include:
Vitreous china – enamel coated after firing, which makes a tougher, denser, and shiny product
Elongated bowl
EPA WaterSense certified
Trade-exclusive tank
PowerWash – a circular water flow that helps to scrub the bowl clean after each use/flush; it uses 20% less water than standard toilets.
EverClean system – this technology helps to maintain a clean surface. A glaze additive protects the pipes from unwanted mildew, mold, fungus, etc., and it makes the toilet shine
4-inch piston-action Accelerator flush valve
chrome lever
I put this toilet in my master bathroom for no other reason than that I like the shape more. It is a little bit cleaner looking.
The toilet I chose for the kids' bathroom was the Toto Drake II CST454CEFG#01. It, too, is a hot seller and has the same 1.28 gallons per flush. Where the American Standard toilet has the Everclean finish, Toto offers what they call CeFiONtect finish. Both are designed to keep the toilet cleaner and ensure low levels of maintenance. Toto's equivalent to the Powerwash system is the Tornado flush (formally known as Dual Cyclone). The idea behind this flushing system is that surfaces will look like new for longer if the water "scrubs" the bowl as it flushes. Other innovative features of the Toto Drake II include:
Large water surface area
ADA compliant
Saves 20% water compared to most 1.6 GPF toilets
2-1/8″ wide trapway
Elongated bowl
You can see why these are such popular choices, and you can get them here at PlumbersStock. We are currently running a special that can't be beaten. Add to cart to see the discount price.
Installing the Cadet Pro and Drake II
The installation of these two toilets was precisely the same. No tricky bolt system to fight with, as you might find in a skirted toilet. Both toilets came in two separate boxes: one for the bowl and one for the tank. The tanks bolted on easily enough; I have not yet had a single issue with leaky tanks. I have not had any problems with either toilet so far, and I am quite pleased with the purchases.
What About Maintenance?
The Glaze on both of these toilets makes a considerable difference when cleaning. Any evidence left in the bowl of prior use washes away with hardly any effort at all. Everything was looking good on both sides of the comparison until we went for a few days to visit family. We left with clean toilets and returned to find ugly hard water stains in both toilets. One worse than the other.
Having dealt with hard water in virtually every home, I have lived in; I dreaded scrubbing hard water stains from my practically new toilets. Much to my surprise, the hard water stains scrubbed off in a matter of moments. Below I have images that show the toilet on day one on the left, then day 59 with hard water after our vacation in the middle, and then day 60 after the quick cleaning on the right: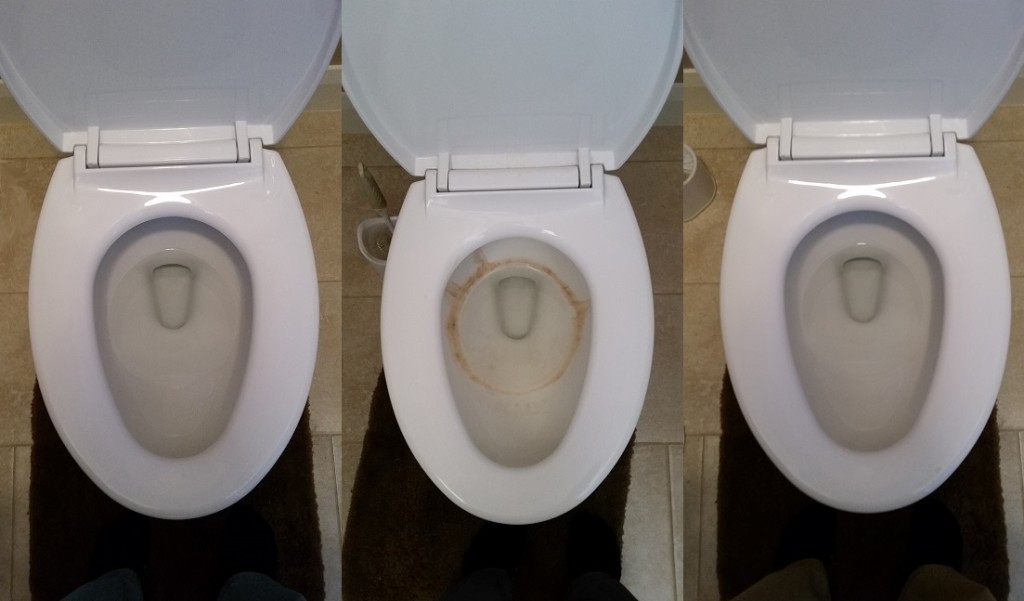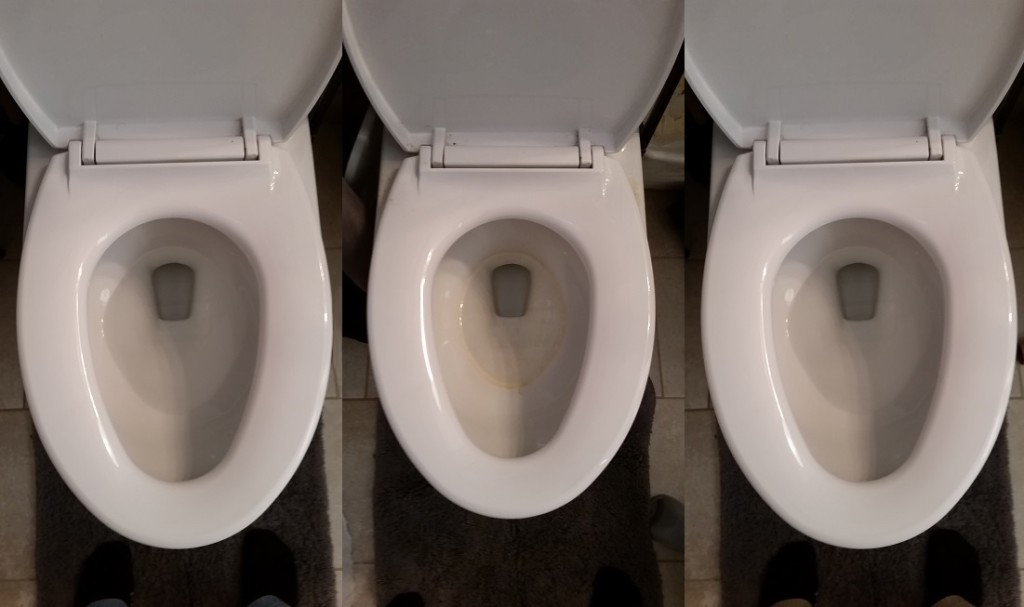 For any of you who have ever built a home, you know that budgets are tight, and every little cost is evaluated and stressed over. The decision to spend a bit of money on these two toilets rather than a builder-grade toilet (which was what was budgeted) was one of the better decisions we made.
Toto vs. American Standard Toilets?
As far as choosing a favorite between the two, it is almost too close to call. That being said, I am leaning toward the American Standard Toilet for two reasons. Ase I mentioned, the Cadet Pro 215C.A104.020 is a little less blocky, and the fill valve operates a little more quietly. They are both great toilets, and I would not hesitate to purchase either of them again.