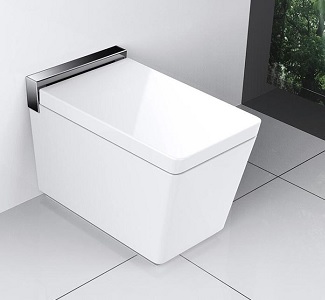 Price: $$$$
Rating: 4.5/5 stars
If you're in the market for a top-of-the-line smart toilet, you should consider the Trone Glacera, which is brand new to the market just in time for 2022. This luxury model has all the bells and whistles, which we will go over in full detail. Its unique square shape is what makes it stand out. Trone offers several intelligent toilets for customers with different budgets and needs. The Glacera is on the high end of their pricing model, so check out the others if this is a little out of your range.
What Is a Smart Toilet?
A smart toilet is a high-tech bathroom fixture that offers a variety of features, most commonly a toilet with a built-in bidet. They are often controlled with a touch screen or remote control. Smart toilets, or bidet toilets, are becoming increasingly popular, as they offer a more hygienic, luxurious, and comfortable experience than traditional toilets.
Heated Seat
The heated seat is ideal for those cold winter mornings or evenings. It quickly warms up to a comfortable temperature, making it so much more pleasant to use.
Air Deoderizer
The deodorizer is another great feature that helps to keep the bathroom smelling fresh. It uses an activated carbon filter to neutralize any unpleasant smells.
Night Light
The night light is perfect for those middle-of-the-night trips to the bathroom. The ability to keep the lights dim while you're half asleep helps keep you half asleep, and returning to bed is more seamless.
Self-Cleaning
The self-cleaning nozzle helps to keep the toilet hygienic. It uses a powerful stream of water to flush away any dirt or debris.
Warm Air Blower
The warm air blower is another excellent feature that helps to keep you warm while using the toilet. It provides a stream of warm air that helps to keep you comfortable as it dries you.

Adjustable Water Temperature
The adjustable water temperature makes it easy to change the water according to your preferences. Whether you like it hot or room temperature, this feature lets you choose what feels best.
Adjustable Spray
The adjustable spray pattern allows users to set the spray according to their preferences. It provides gentle streams of water for a comfortable experience.
Full Coverage
The front and rear cleansing provide full coverage for a thorough job.
Wireless Remote
The wireless remote control is a great convenience that lets the user control all the toilet features without having to leave their seat. This makes it easier and more streamlined to use.
Frequently Asked Questions
Q: Do I need an outlet near my toilet to install a smart toilet?
A: Yes. It's not battery-operated. You need access to an electrical outlet near your toilet.
Q: Do I need a plumber for this installation?
A: No, not necessarily. You can install it yourself, although sometimes a plumber might be wise if you are not comfortable or have tricky circumstances to work around.
Q: What is the rough-in measurement for this toilet?
A: This Glacera bidet toilet is configured for a 12-inch rough-in installation.
Conclusion
The Trone Glacera is a top-of-the-line smart toilet with all the bells and whistles. Its unique square shape is what makes it stand out, and you will love the way it looks in your bathroom. Although it may seem pretty pricey, when you compare it to the other toilets in its class from brands like TOTO and Kohler, it's actually a pretty affordable alternative. If you have questions that you're not finding answers to here on PlumbersStock, maybe try the manufacturer at TronePlumbing.com.