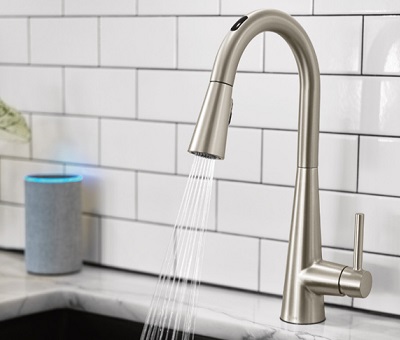 If you were a fan of the U by Moen shower valve release, you're in luck because they are now introducing U by Moen smart faucets. As you can imagine, the features are numerous and transformative. Moen is billing their design as "your new kitchen assistant." This voice-activated technology is available with some of your favorite kitchen faucet models, in various finishes: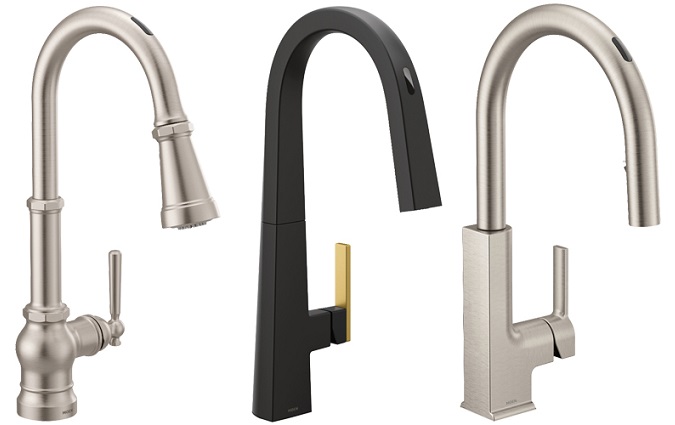 U by Moen Smart Faucet Features
So you ask, what kind of features do these Moen voice-activated faucets offer?
Voice control – integrate the smart faucet with the digital voice assistant of your choice (Alexa, Google Assistant).
Wave sensor – wave your hand in front of the sensor for quick, touchless activation.
Personalized settings – using the smartphone app, customize the faucet presets to your needs.
Colored light indicators – blue, purple, and red on the wave sensor indicate if the system is warming or cooling.
Audio confirmation – if your digital voice assistant does not repeat the instructions back to you, then you know that the command didn't work.
What Are the Voice Command Capabilities?
Command your faucet to dispense water from as little as one tablespoon up to 15 gallons
Temperature commands, like "105 degrees" or less specific, like "cold water"
Combine those previous two commands into compound directives, like "1/2 cup of 105-degree water"
Create preset commands within the Moen app, like "dog bowl"
In their own words, Moen offers a few examples of how useful this smart technology can be:
You walk into the kitchen to prepare a baby bottle, but your hands are already full holding your little one. With just a few words, your faucet provides the perfect amount and temperature of water – no more balancing act. Later, you're rushing to get dinner prepared, but with a simple command, your pasta pot is being filled with exactly four quarts of hot water while you chop veggies – no more multitasking blunders. Whatever your daily challenges may be, Moen, the leader in water experiences in the home, can help you conquer them by delivering personalized and intelligent products for the hardest working area of your house.
Moen and PlumbersStock
Regardless of what kind of Moen products you are looking for, PlumbersStock has what you need. We encourage contractors to contact us directly to talk about options for buying in bulk. We can offer all kinds of deals that we can't necessarily advertise, so hit us up if you're curious. Whether you are a contractor or a homeowner, you can save with PlumbersStock on U by Moen smart faucets. Please check back with us for future Moen releases, and feel free to browse all of our kitchen sink faucets.