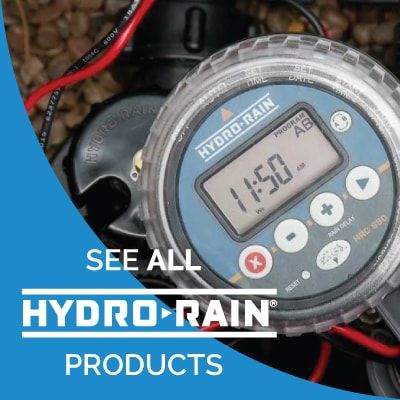 From pipe cutters to valves to transmitters and more, Hydro-Rain offers some of the highest quality irrigation equipment on the web. Truly, whether you are looking for products that last for years or for items that simply perform well, Hydro-Rain is the supplier for you; however, this isn't all they have to offer. In addition to some of the lowest prices around and a wide variety of products that simply outclass the rest, you will also find caring customer service.
With our discount prices, it's easy to see why so many choose Hydro-Rain sprinkler system parts from PlumbersStock. Read on for more information concerning our supply of Hydro-Rain products!
Hydro-Rain Irrigation Products
Be sure to check out PVC Lock, which is their revolutionary technology that allows you to adequately connect PVC pipe and fittings without glue and primer.
Included in our inventory of Hydro-Rain Products are:
Transmitter Controllers: Used to turn on sprinkler stations from as much as 300 feet away, our transmitter controllers make running a complex ecosystem as easy as ever. No more making your way all the way to the other side of the yard to turn on your irrigation, and no more multiple stops between different irrigation control points; simply aim, click, and watch as the magic happens.
Adapters: If you need to transition a pipe to a different diameter, our Blu-lock adjusters feature stainless steel, nonslip retaining ring that will ensure a waterproof seal while allowing as much adjustability as you need.
Pipe Coils: Our Blu-Lock pipe coils are 300' long, come in a variety of sizes, and can be used for any number of applications. Whether you are creating a drip feed or simply transporting water from one side of the yard to the other, our pipe coils—which increase the flow rate over traditional barbed fittings—can be the perfect product for you.
About Hydro-Rain
Hydro-Rain is the leader in professional grade irrigation products and is truly the first stop for builders, contractors, or distributors looking for only the best. For years, they have committed to listening to the professionals whose success depends upon the performance of the products they purchase, leading them to create long-lasting precision products made of only the highest grade materials. Best of all, everything is rigorously tested in the laboratory and the field, and everything is built with interchangeability, tight engineering tolerances, and strict conformance to engineering standards in mind. In other words, if you buy a Hydro-Rain product, you know you are getting something that works.
Buy a Hydro-Rain Sprinkler System at PlumbersStock
At the end of the day, if you are looking for quality irrigation products, Hydro-rain sprinkler system parts at PlumbersStock.com are your best option. With the lowest prices online and a host of incredible products, you will certainly be pleased with what you find.
Call today for more information a variety of sprinkler products or check out HydroRain.com!