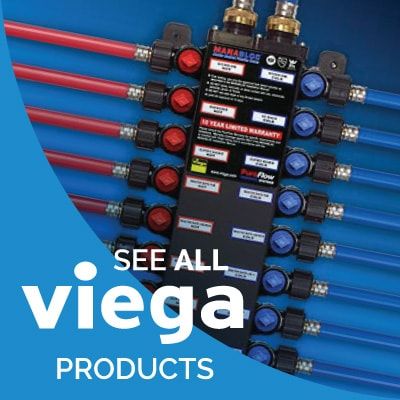 Viega is one of the industry leaders in plumbing, offering a host of different plumbing options worldwide. They provide high quality parts, pieces, and tools that are great for any job, while focusing on great customer service. PlumbersStock proudly carries over 200 Viega products at unbeatable prices.
Why Choose Viega?
Though we provide parts and tools from many companies on this site, Viega is one of the higher quality brands you will find, especially when it comes to manifolds. With a team of highly trained engineers and technicians at their disposal all who have undergone extensive training in plumbing and part design Viega offers experience and technical skill, resulting in the highest quality parts on the market.
On top of this, Viega offers a wide range of different parts that you can use for any situation. From manifolds to Viega crimp tools, you will find everything that you need for any job, and all made with quality. No matter if you are searching for couplings, adapters, manifolds, pipes, or even parts and tools, PlumbersStock has the part you need.
What They Offer
As already mentioned, Viega provides a variety of different tools, pipes, and parts that are perfect for any job. With so many Viega products to offer, it would be hard to give a complete product list here; however, here is a quick list of categories that may be useful for your next piping job:
Couplings and Adapters: Perfect for all types of in-house and sewer connections, their couplers and adapters are of the highest quality. You will find a variety of well-made, useful parts that will make your plumbing job easier at a price you can afford. PlumbersStock offers Viega press fittings, including elbows and tees.
Manifolds and Pipe: You want a quality manufacturer when it comes to plumbing. Viega manifolds, like the Manabloc may be the best in the business. Few of our suppliers offer the selection that you will find here, and even fewer provide a similar quality. Though you may be paying a little extra for the quality, a Viega manifold or pipe is certainly a worthy option when all is said and done.
Viega Tools: Viega provides a host of specialized tools, all geared towards making your plumbing job easier. Call today for more information. The Viega PEX crimp tool repair kit is one of our most popular items.
At the end of the day, if you are looking for a supplier who offers great quality, in addition to world-class customer service, Viega provides exactly that. No matter what you are looking for, you should be able to find it here. You will not be disappointed whether you purchase a Viega snap panel or PEX press fittings.
Buy Discount Viega Manifolds Online
if you do not find what you are looking for here, make sure to check out the rest of our site; we are sure you will find the Viega part you need and if you have difficulty contact our customer service team and they will gladly help. Thanks for visiting PlumbersStock.com. Save on the best plumbing products available anywhere right here or learn more at Viega.us.