About the Moen Brantford Collection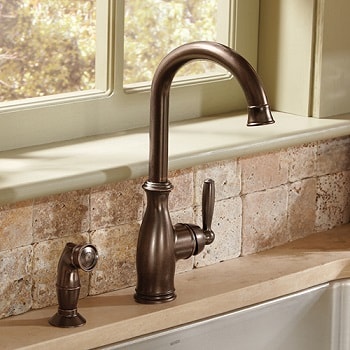 If you are looking for a Moen Brantford faucet, we have plenty of options here at PlumbersStock. Moen is one of our favorite manufacturers, and as you browse through their designs, you'll quickly understand why. Whether you are updating your kitchen or bathroom, the Moen Brantford collection can accommodate you.
Types of Moen Brantford Products
These faucets, parts, and accessories will allow you to overhaul your master bathroom or replace your kitchen tap. The designs are classic and will never go out of style. The Moen Brantford collection includes:
Kitchen Faucets
Lavatory Faucets

Lighting
Robe Hooks
Shower Heads
Tub Spouts
Valve Trim
Whatever Moen Brantford component you are looking for, if you have trouble finding it, please don't hesitate to contact us. One of the great things about Moen is they make it easy to install the various parts and accessories.
Brantford Features
ADA compliance - look for options that are compliant with the The Americans with Disabilities Act.
Duralast Cartridge - This innovative cartridge technology offers a smooth and reliable operation. The awesome engineering and quality material team up to create a great result. Superior durability is part of what makes Moen the best at what they do.

LifeShine - This is a patented finish designed to resist corrosion and flaking and Moen made it to last for the lifetime of the products. The finish is in the surface, not on it.
M-Pact Common Valve System - This technology makes it so easy to replace your faucets with a catch-all valve system.
Posi-Temp - This patented cycling valve is great in part because it is easy to install. The Moen engineers built this tech with durable brass construction. Faucets are easy to replace because you don't have to rip out the guts.
Reflex - Moen came up with this shower and kitchen faucet solution because of feedback from customers. The spray wand on Reflex faucets offers superior range of motion. Pulldown faucets almost magically retract without assistance. Reflex designs are easier to unlatch, too.
WaterSense - Meeting EPA guidelines, this technology allows you to conserve water while saving your hard-earned money on utilities.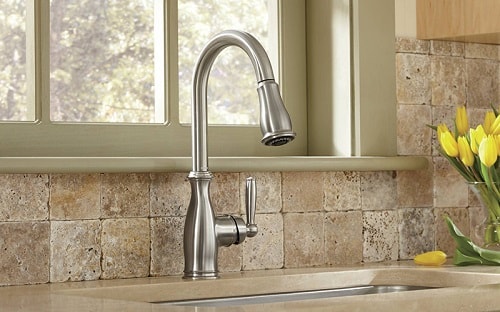 That's not all! There are other features to look for in the Moen Brantford collection, so shop around and compare. If you find incomplete information on the product page you are investigating, please call us and we can help to inform you.
Brantford Finishes
This particular Moen collection offers four different finishes:
Brushed Nickel
Chrome
Oil Rubbed Bronze
Stainless Steel
Buy Moen Brantford Faucets and Parts
PlumbersStock always has great sales on the Moen Brantford collection. When you need a replacement part for your faucet, or if you want to replace the whole thing, please turn to our experts. We'd be thrilled to see how your remodel goes, so please post images to social media and tag us.