Elkay Rene Collection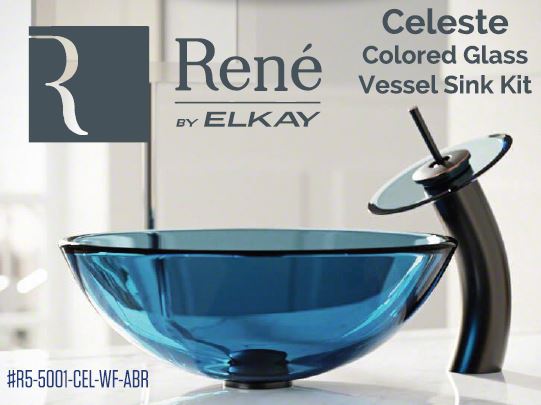 The new Rene by Elkay is one of the hottest collections for bathroom and kitchen updates. If you have not yet seen the fixtures in this collection, well you are in for a treat. It has a wide range of interesting styles, from vessel sinks to innovative faucet designs.
According to Elkay, "The René philosophy is simple: we offer products which reveal your good taste. René seeks out the finest materials and craftsmen in the world to create vessels which not only meet your functional needs, but could be considered performing artists as well. With their abounding visual appeal, people will most certainly take note."
Types of Rene Products
The Rene universe revolves around lavatory and kitchen sinks, but keep your eye out for sink kits that include faucets and drains. The glass sinks really stand out and are a great way to transform your bathroom. Give it a futuristic look with an affordable solution that offers different types of glass, like foiled, frosted, textured, and more. There is literally a kitchen sink for everybody, so find the perfect one for you.
Rene for the Bathroom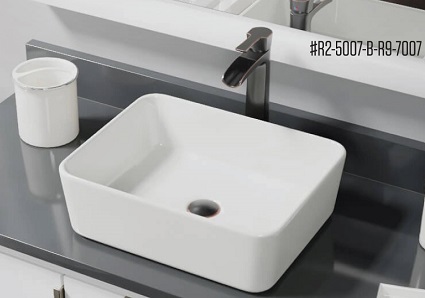 There are four different sink materials in the bathroom collection: bronze, copper, glass, and porcelain. There are three different shapes: oval, rectangle, round, and square. The installation types include topmount, undermount, and vessel. Choose from the following colors:
red
white
blue
yellow
green
biscuit
black
brown
clear
gold
If you want a truly unique look, try the R5-5012, which is a flower petal vessel sink with waves of frosted, smoky-black glass.
Rene for the Kitchen
There are all kinds of kitchen sink choices with Rene by Elkay. There are dozens and dozens of options, including:
Bar sinks
Single-bowl kitchen sinks
Double-bowl sinks
Offset kitchen sinks
D-bowl kitchen sinks
Utility sinks
Rectangular sinks
Apron sinks
And more!
Materials include Trugranite, composite granite, copper, stainless steel, etc. The Trugranite and the composite granite come in a number of different colors. Look for different size options on some sinks, although many models only offer one size.
Buy Rene by Elkay Online
We have it all for great low prices, so shop and save on this awesome new collection. If you have trouble finding a specific sink, please feel free to contact us. These Elkay Rene sinks will prove to be a beautiful centerpiece in either your kitchen or your bathroom, for years to come.