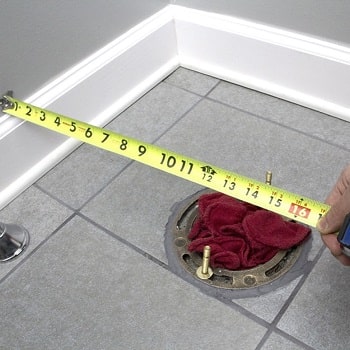 Here you will learn how to measure a toilet rough-in distance. This pivotal task is essential to the installation of a new toilet. Those inexperienced in plumbing may not have ever heard the term rough-in, so allow us to address that before we get started.
What Is a Toilet Rough-In?
The rough-in is the location of the water outlet (typically) beneath the toilet. In some cases, the rough-in is in the wall, but we won't be covering those toilets here. The rough-in measurement is the distance from the center of the outlet to the wall facing the back of the toilet.
What Is the Standard Toilet Rough-in Size?
Any plumbing professional can tell you that the standard is a 12" rough-in, and this is true for both two-piece and one-piece toilets. You will find sometimes find a 10" or a 14" rough-in measurement. If it's not one of those three lengths, then you have a truly unique situation.
How to Take a Toilet Rough-In Measurement
You want to measure the distance from the wall to the bolt caps at the center of the discharge. The general rule of thumb for clearance from the wall that faces the bowl is 24" and just about 15" on each side. The rough-in measurement indicates how much clearance you have and will allow you to select a compatible toilet.
There are a few common errors when it comes to measuring a toilet rough-in. You will want to be sure to avoid these pitfalls: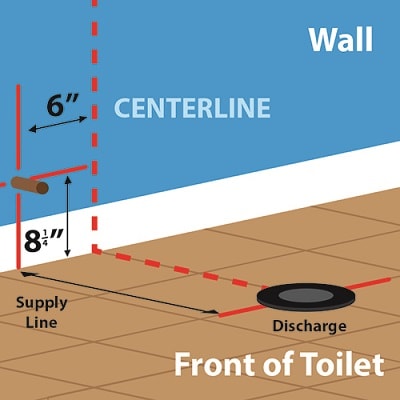 Many make the mistake of measuring from the baseboard that you often find along the perimeter of a bathroom floor. In some cases, this may skew your measurement by up to 1/2". Make sure to account for the baseboard when you calculate dimensions.
Do not measure the bolt cap on the toilet base if it is not centered on the discharge hole. You may wrongly guess that the bolt cap is aligned with the outlet hole center, but that is not a safe bet.
Some think that bigger units, like ADA-approved and elongated toilets, need a larger rough-in. This is not accurate. There are elongated toilets built to fit a 10" rough-in, and some are built to fit 14".
Good Luck with Your Project!
Now that you know how to measure a toilet rough in size let us know how your project goes on social media. Share pictures with your install and tag us. Please post comments and questions about how to measure a toilet rough-in. Let us know how we can answer more of your DIY questions. Thanks for visiting PlumbersStock.
Lastly, don't forget to update your installation with us when you need replacement toilet parts. If you're looking for an innovative way to improve your hygiene bathroom experience, consider electronic bidet seats for your toilet.
Related Resources:
Fixing a Toilet Tank Leak
Replacing a Toilet Flange
Replace a Toilet Supply Line
How to Plan a Bathroom Remodel