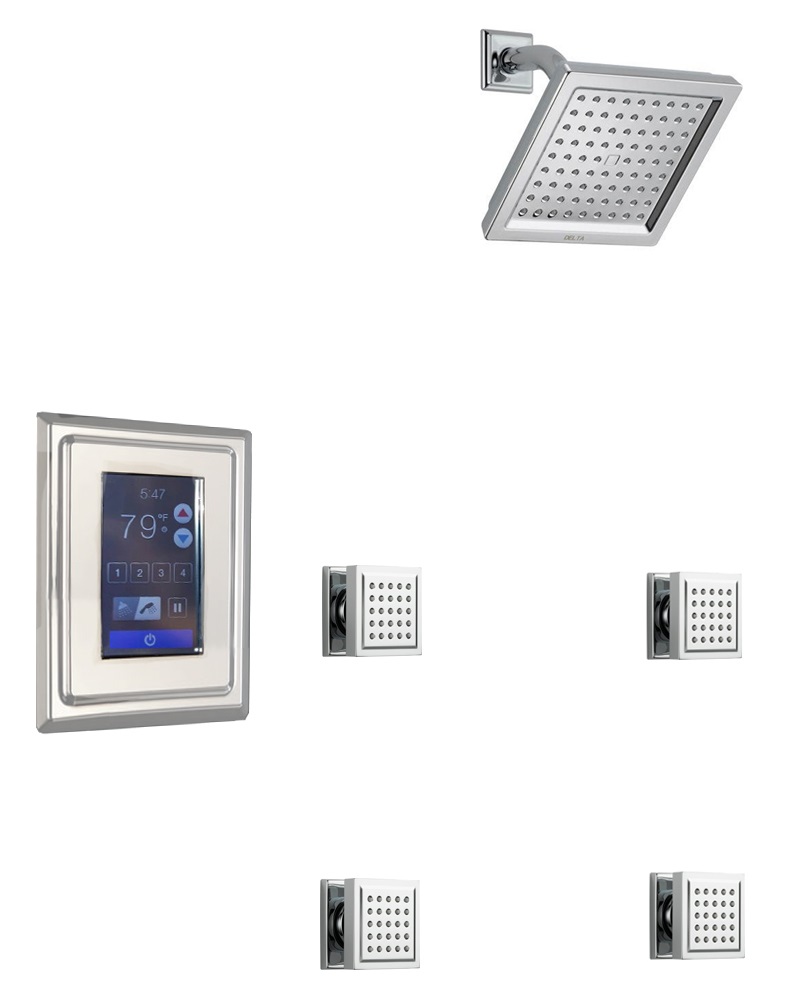 by Cliff Kimber
Coming Soon to PlumbersStock.com
Update: we anticipate this new product will be released late summer or early fall '15!
As a leading innovator in the industry, both competitors and consumers look to Delta for the latest and greatest in bathroom technology. At PlumbersStock, we are excited to announce the next big thing in shower solutions.
At KBIS 2015 (Kitchen and Bath Industry Show), they were introducing their new product! Everyone has been wondering what is the Delta Odyssey Digital shower, and we were completely dazzled.
One great thing about the shower system is that it allows you the versatility to match your configuration. The new Delta Odyssey Digital/XO Digital will allow you to control and operate up to 5 outlets. With touch screen technology like you've never seen before, you get full control over your shower and its many features, and we can confirm firsthand the touch screen is 100% user-friendly.

What Are the Delta Odyssey Features?
Touch screen interface – as mentioned, the touch screen offers a user-friendly way to control your shower experience. With the simple press of a button, you can control various spray functions, as well as access temperature control and flow rate settings, and it's all displayed on an easy-to-read, waterproof screen. The interface includes a digital clock, so you do not get too carried away with your therapeutic shower spa time.
Easy installation – this is a game changer. The Odyssey is engineered in such a way that it does not require separate access panels, meaning it will install much like a standard shower.
Pause/Play functionality – it really is quite astounding what you can do with the interface. For example, if you have a shower with multiple outlets, the Odyssey XO Digital can pause/play different functions of the shower, and immediately return to those paused settings. For example, when you're applying soap you can shut off a side spray and the overhead, while the hand shower remains running so you get the optimal lather. Then turn the side spray and overhead back on, and they immediately return to the temperature and spray settings you had them on.
User settings – save water control, flow rates, and temperature settings for up to four users!
Wireless remote (optional) – turn the shower on remotely, with your specific settings. This optional infrared remote control lets you adjust water temperature and turn the shower off or on without interfering with preset controls and settings.
Finish – you can get the Odyssey decked out in champagne bronze, Venetian bronze, stainless steel, polished nickel, and of course classic chrome. Delta has a reputation for offering the most beautiful, and long-lasting finishes. Delta is so confident in the quality of their finishes that they offer a lifetime finish/faucet warranty.
The model is compatible with as little as two spray outlets. The XO gives you an additional two, for a total of four (five counting the overhead).
Transform Your Bathroom with the Delta Odyssey System
We anticipate getting product this summer, so you will want to come here first for great prices on your favorite finish. PlumbersStock.com is an online leader in Delta bathroom solutions, and it's no exception with the Delta Odyssey Digital Shower system. Stay tuned for more product updates, and the best prices online.
Check out our blog and be inspired.