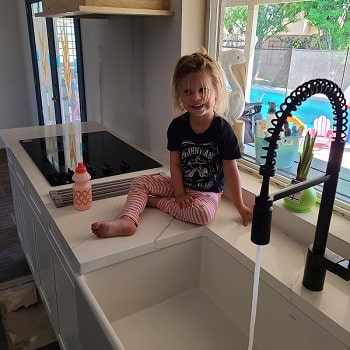 My wife and I had been planning to remodel our kitchen for a few years, and a mold issue behind the dishwasher expedited the process. This accident expedited the process. Instead of repairing the damaged cabinets, we had the insurance company cut us a check to spend on a complete remodel. If you can get over living with torn-out cabinets and then a remodel for months, then this is what we call a happy accident. It paved the way for our new Moen farmhouse kitchen remodel. Maybe our experience will inspire you to overhaul your home's layout, just like we did.
Scroll to near the end of the post to see before and after images.
What Did We Do?
Every kitchen is different, and in some cases, you may keep all your appliances or maintain your layout. We did not. The sky is the limit, so get as creative as possible.
Sink and Faucet
We wanted the kitchen sink to be a focal point. We love farmhouse style with the apron front, and white was the only option we considered. We actually bought an Elkay sink, but it arrived with a chip on the corner (FedEx's fault). The manufacturer didn't have anything in stock to replace it, so I got a refund through PlumbersStock. They handled all of that for me. Maybe this was a blessing in disguise because I got a wider 33-inch model, the Moen farmhouse sink (FC331910). I initially went with Elkay because they have a strong reputation for making quality sinks. Moen is fairly new to the sink game, but this one was highly rated, and I saved a little money.
There were no misgivings about what faucet we wanted. Although we weren't sure about the color, we had been eyeing this Moen Align faucet (with MotionSense Wave) for a while. This Moen soap dispenser perfectly complimented the faucet, and the black air switch was a fun touch. The switch, of course, operates the fancy new 3/4 HP InSinkErator disposal. And we needed a black disposer flange to match everything else.