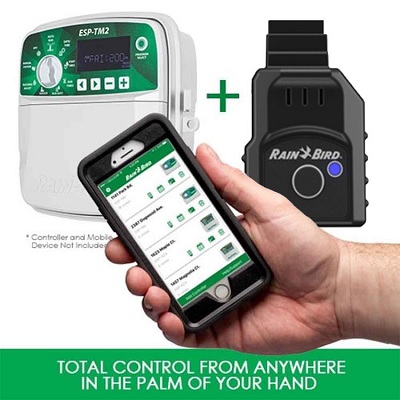 One of our most popular products in the past few years has been the original LINKWIFI module which Rain Bird will now phase out with a new LINK2WIFI (F55005) module. Here we explain the timetable for this change, the new potential features, and more. Rain Bird is a popular solution for homeowners and lawn care professionals for a good reason. If you find this Rain Bird LNK2 WiFi module review helpful, please share it with others.
To utilize this new WiFi remote control technology, you will need both the module and take note that it's compatible with the following controller series:
ESP-ME3
ESP-TM2
ESP-Me WiFi
And ST8 controllers
When Will Rain Bird Introduce LINK2WIFI?
This is considered a direct replacement and will go down on 9/13/21. On that date, Rain Bird will no longer have inventory for LNKWIFI.
Rain Bird LNK vs. LNK2
The most common question we get is, is it worth the upgrade? While both the LNK and the LNK2 have almost the same features, there are some key differences to consider. The LNK2 offers several notable upgrades, such as connecting to more models like the ESP-Me, ESP-TM2, ESP-RZXe, ESP-LXME2, and ESP-LXIVM. In contrast, the LNK is only compatible with ESP-Me and ESP-TM2 controllers. Additionally, the LNK2 is compatible with smart homes in North America, Europe, and Australia and has encrypted wireless communication to protect your privacy.
It is also important to note that the LNK2 module has a dual-band Wi-Fi radio, which allows it to connect to both 2.4 GHz and 5 GHz Wi-Fi networks, catering to your home's Wi-Fi bandwidth. Another difference is that the LNK only connects through a hotspot connection, meaning your VPN, spam blockers, or antivirus apps must be bypassed upon connection. In contrast, the LNK2 module allows you to choose from a hotspot or Bluetooth connection, providing you with greater flexibility and ease of use.
Furthermore, the new module comes with an updated mobile app that offers more features and capabilities than the original, including custom watering schedules, real-time flow rates, and usage data, providing an easy and convenient lawn watering experience. Unlike the LNK, the LNK2 has a simplified installation process that uses a QR code and allows for quicker configuration through the app.
Ultimately, if you want a reliable, efficient, and user-friendly irrigation system, the LNK2 is the way to go.
LNK2WIFI Features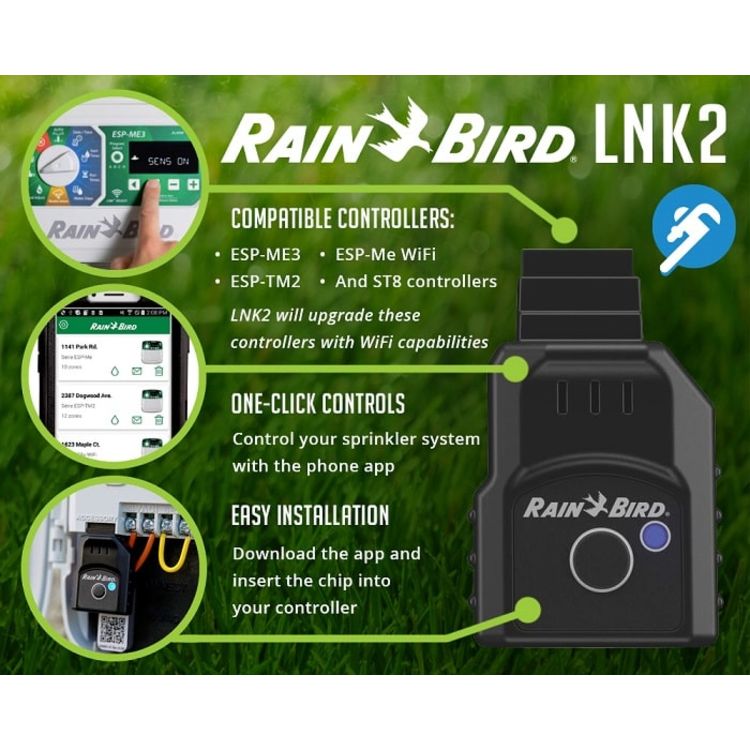 According to the manufacturer, At launch, the LNK2 will have the same feature set as the current LNKWIFI module; however, the LNK2 will have additional capacity for us to introduce additional feature sets in the future.
One of the best bits of news is the new module cost is the same as the old one. Unfortunately, we don't know much about the new features yet; they will be integrated (available through download) with the modules later. We will learn more about the new features in early 2022. Here is what we do know about the product highlights:
Compatible with all Rain Bird WiFi Controllers, including ESP-ME3, ESP-TM2, ESP-Me WiFi, and ST8.
It's easy to differentiate the old from the new because the new module is black (and the old one is gray).
Strengthened network connection.
Automatic weather adjustments provide daily run time changes.
Use your phone just like a wireless remote.
Excellent zone control allows you to water one zone, to water all zones, or to set a schedule.
Simple multi-site control.
Ensure peace of mind with push notifications that you can tailor to your needs.
Smart home compatible.
Local weather data is collected to adjust run times to match needs, saving up to 50% in water.
Privacy is ensured through encrypted communication.
Buy the Rain Bird LNK2 WiFi at PlumbersStock
It's no secret that PlumbersStock has great deals on sprinklers, sprinkler controllers, and more. It's no exception with the Rain Bird LNK2 WiFi Module. If you have any other questions about how to get this set up or how it works, please do not hesitate to contact us. Check out the old blog post about the original LNKWIFI for a setup guide (the process is more or less the same). Your new module will have an install guide to get exact instructions. It's an easy-to-follow, streamlined process.