We are happy to announce that we are now accepting cryptocurrency as a form of payment. PlumbersStock is a leading online retailer in the plumbing industry. Here, you can buy hundreds of thousands of products with the click of a button. We have taken a significant step towards embracing the future of digital transactions. Customers can now conveniently purchase home improvement products using popular cryptocurrencies such as: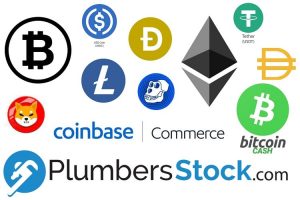 Bitcoin and Bitcoin cash
Ethereum
Litecoin
Dogecoin
Shiba Inu
DAI
Apecoin
Tether
We also support MATIC, US Dollar Coin, and Wrapped Ether (on Polygon). This is subject to change, so stay up to date about supported coins with Coinbase Commerce.
This move showcases our commitment to staying at the forefront of technological advancements. We strive to meet the evolving needs of our customer base. By embracing cryptocurrencies, we provide customers with additional convenience and flexibility in purchasing options.
How to Purchase with Crypto
To make a payment with cryptocurrency at PlumbersStock.com, follow these steps:
Select the "Bitcoin & Crypto" option at checkout.
Follow the instructions provided on the website.
PlumbersStock.com accepts all currencies used on Coinbase Commerce. This is the eComm checkout feature from the world's leading cryptocurrency exchange.
Anonymous checkout is allowed, ensuring privacy in your transactions.
You can conveniently make crypto payments from Coinbase, a popular cryptocurrency exchange, or Web3 wallets.
Alternatively, you can make a wallet transfer from any crypto wallet of your choice.
By following these simple steps, customers can take advantage of PlumbersStock.com's acceptance of cryptocurrencies and enjoy the benefits of secure and efficient transactions.