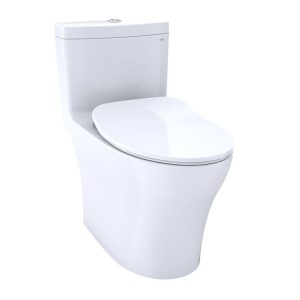 The summer of 2022 brings us exciting news about changes to one of our favorite TOTO collections, the renowned Aquia IV series. In September, almost the entire lineup is getting a refresh. This means old models will be phased out and replaced by the latest models with updated features. With one glance at the features and a peek at the designs, it's easy to see why our customers love TOTO Aquia IV toilets. With literally hundreds of TOTO toilets at friendly prices, you've come to the right place.
What's new in the Toto Aquia IV series?
The updated models have a larger water retention spot (55% larger) in the bowl. The water spot is the surface area of the water. This is a benefit because it's easier to maintain a clean toilet and prevent clogs. In the new Aquia IV series, regular height toilets are slightly shorter than the predecessor (5/8 of an inch). If you choose a Universal Height version of an Aquia IV toilet, then there is no change to the updated models.
On top of those fantastic upgraded features, the list pricing on the new Aquia IV series will remain relatively the same!