With businesses and schools attempting to re-open, we must take all the proper precautions. This will reduce the spread of germs so we can remain open. At PlumbersStock, we know there is at least one way we can help with Coronavirus prevention for schools: touchless, sensor-operated water coolers! Traditional drinking fountains facilitate the transmission of germs because you have to touch the push bar to operate them. There is no way to significantly mitigate this risk without removing the push bar altogether. Well, guess what? Elkay has done precisely that.
We want to ensure that school and business administrators are educated about what's available. Here, we'll cover all the different options for hands-free drinking fountains and bottle fillers.
Elkay Touchless Water Coolers
Some bi-level water coolers are hybrid configurations. That means that one side operates with a sensor, and the other, a push bar. For instance, the Elkay LZOTL8WSLK is an example of this kind of setup. However, since we want to reduce contact, we'll only cover fully touchless models here.
ezH2O Filling Stations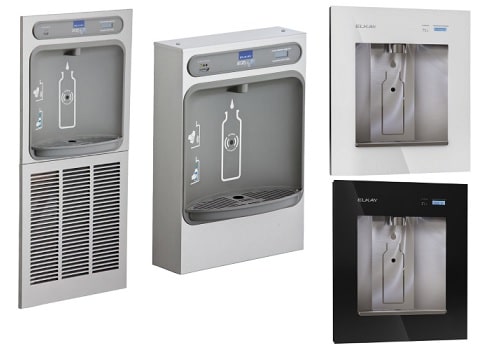 Installing an ezH2O bottle filler is the best strategy for Coronavirus prevention. If you really want to mitigate contact, then avoid drinking from the cooler altogether. Fountains have bubblers and let's face it, kids are probably going to touch the bubblers. Consider that we've seen school administrators remove bubblers altogether, rendering the coolers useless. All of these water dispensers are ADA approved and are graded for commercial applications.
And if you are looking for something a little more sleek and stylish, try the: