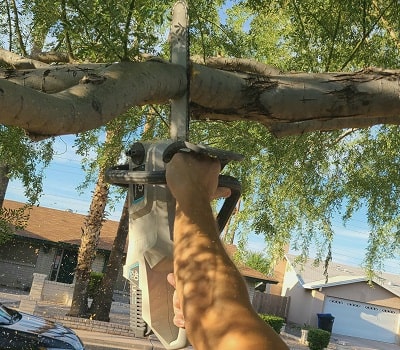 by Nathan Baker
I live in Arizona, and I have a huge Honey Mesquite tree that is becoming a problem. During tsunami season, we experience incredibly strong winds. The tree is so big it's getting close to covering the street and my neighbor's driveway. A storm could potentially pull a limb right off and drop it on somebody's nice truck or the roof of my house, and I want to avoid that.
I decided to buy a Swift EB212D2 chainsaw to take care of the problem. I'm very happy with the purchase, and I'll cover exactly why in this Swift cordless 40v chainsaw review. PlumbersStock carries all Swift tools, and I've been very pleased with the mower and now the chainsaw that I've bought.
If you need a replacement 12″ blade, the specs are 3/8″ pitch – 43 Guage (Narrow Kerf) – 46 drive links.

Assembly
The chainsaw comes in a fairly small package. This thing is compact, but the blade is big enough to handle some pretty big jobs. Assembly was easy and went quickly. When you get the chain on correctly, and everything is in its proper place, you'll know it because it all fits together perfectly. The chain is snug and taut when you lock the housing securely into place.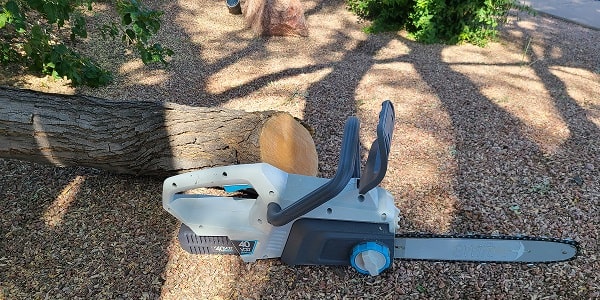 You're not quite ready to put the chainsaw to task yet. It needs lubrication. Chainsaw oil is cheap, and a quart should last you quite some time unless your usage is abnormally high.
Swift Cordless 40V Chainsaw Features
Battery – The 40v Lithium-ion battery packs a punch. It delivers long-lasting power, and I love how I can use the same battery for my mower and chainsaw, switching interchangeably between them. The batteries charge quickly, too. I mowed my little lawn and did an impressive amount of cutting and still had battery juice to spare.
Quiet Operation – I was blown away by how quiet the chainsaw is when it runs. I was expecting that I might need earplugs, but they are entirely unnecessary.  If you want to scare trick or treaters at Halloween, this isn't the right chainsaw. It puts out about as much noise as a 40v hedge trimmer.
Safety Guard – there is a handguard just in front of where you hold the chainsaw with your lead hand. If your hand slips and pushes the handguard forward at all, the chainsaw immediately shuts down. Before you cut anything, you should place the chainsaw on a sturdy flat surface, run it, and make sure the handguard works.
Blade Length – though the chainsaw is compact and easily managed, it has a pretty impressive cutting capability with its 12″ blade. You'll be able to trim very large branches as I did with my Mesquite tree, as well as moderate-sized tree trunks.
Compact Size – as previously mentioned, the design is small enough that it won't take up a lot of room in your shed.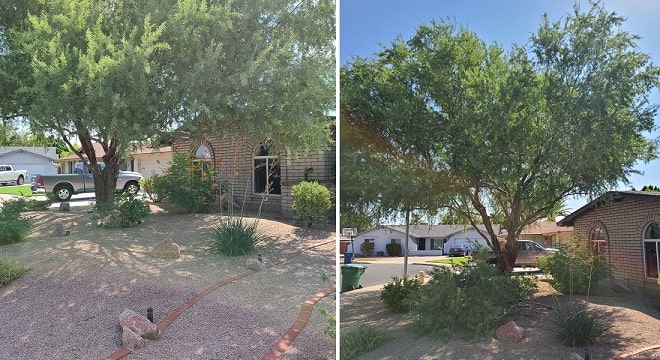 Buy Swift Tools at PlumbersStock
You can buy and save on any of these Swift cordless power tools when you shop online here with PlumbersStock. Be sure to check back with us in the future as we release new tools. If you run a landscape crew, please don't hesitate to hit us up for a special arrangement with better deals than what you see here. We'll likely give you better prices if you buy in bulk, so contact us.