Nathan Baker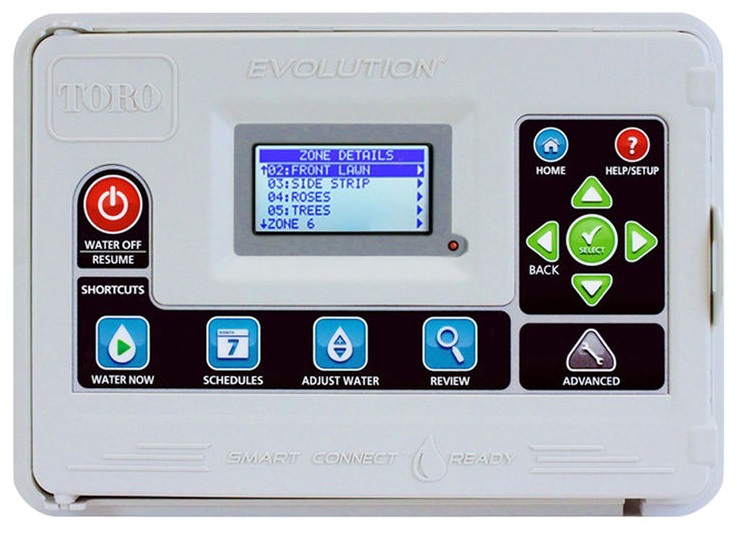 As you probably know, Toro is known is an innovative trailblazer in the world of irrigation controls. If you want proof of that, look no further than Toro EVOLUTION sprinkler timers. Utilizing an intuitive interface and unique features, Toro allows for "smart" control of both residential and commercial applications.
All the timers in this product line share the following features:
Dimensions are approximately 11-1/4″ x 7-3/4″ x 4-1/2″
Weight is about 4-1/2 lbs
The number of stations varies from 4 to 16, with swappable modules
If you are in standard mode, there is one schedule
If you are in advanced mode, there are up to 3 irrigation schedules and 3 auxiliary
Run times range from 1 minute to 12 hours
There are 4 start times per schedule
Why Are Toro EVOLUTION Sprinkler Timers So Great?
Basic functions within the interface are easy to access with their Shortcut buttons. This functionality allows a novice user to simplify the commands, whereas an experienced irrigation professional can use the same timer for advanced applications.
What Is Smart Connect?
An optional feature that you may want to consider is a Smart Connect device that can wirelessly manage add-on devices, like the EVOLUTION weather sensor, the EVOLUTION Remote, and more. This sort of communication between devices can make your life much easier.
Program Toro EVOLUTION Sprinkler Timers with Software
If you hate dealing with the timer interface, consider using the simple-to-use software that will allow you to program your device using your PC. Simply use a thumb drive (USB drive) to transfer data from your computer to your timer. You can use that same functionality as an operational log and diagnostic tool.
Which Toro EVOLUTION Should I Buy?
Well, they've made it really easy for you. Do you want to install it indoors or outside? Here we have all the products in the EVOLUTION series (as of the date of publication):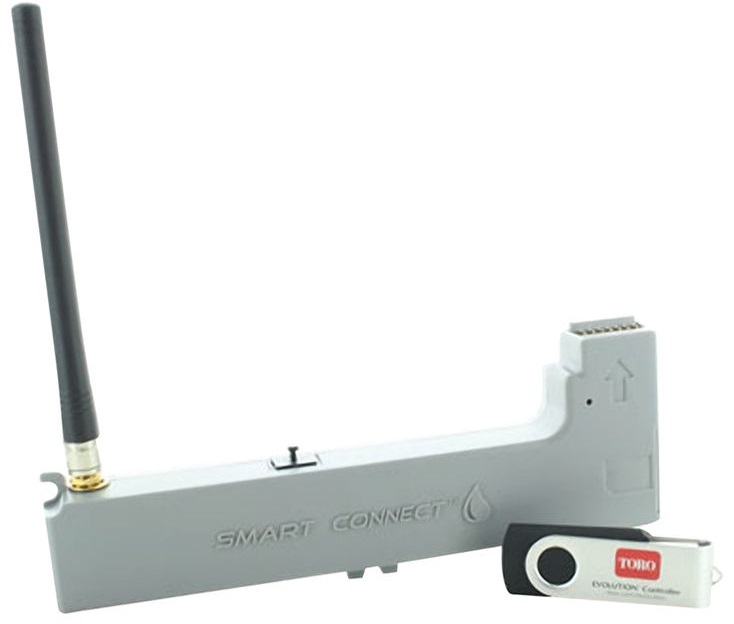 Toro EVO-4OD EVOLUTION Timer – This timer is waterproofed to withstand outdoor elements.
EVO-4ID Indoor Timer – if you are planning on installing it indoors, like in the garage, then get this model because we usually price it a little bit cheaper.
Toro EVO-AR Auxiliary Relay – this device operates off wireless technology and will allow you to connect lighting, pumps, fountains, and more to your controller.
EVO-HH – Control your timer using this wireless handheld remote.
Toro EVO-SC Smart Connect – this the device that allows you to control relays, sensors, and other devices through wireless communication.
EVO-WS – prevent over-watering with a weather sensor that will make modifications to your schedule based on what's going on with the climate.
Toro PSS-SEN Soil Sensor – prevents both under-watering and over-watering by testing moisture levels in your soil.
Save on the Toro EVOLUTION Series
Be sure to check out our affordable prices here at PlumbersStock. I hope this Toro Evolution sprinkler timers review has been helpful to you. Please leave me a comment!