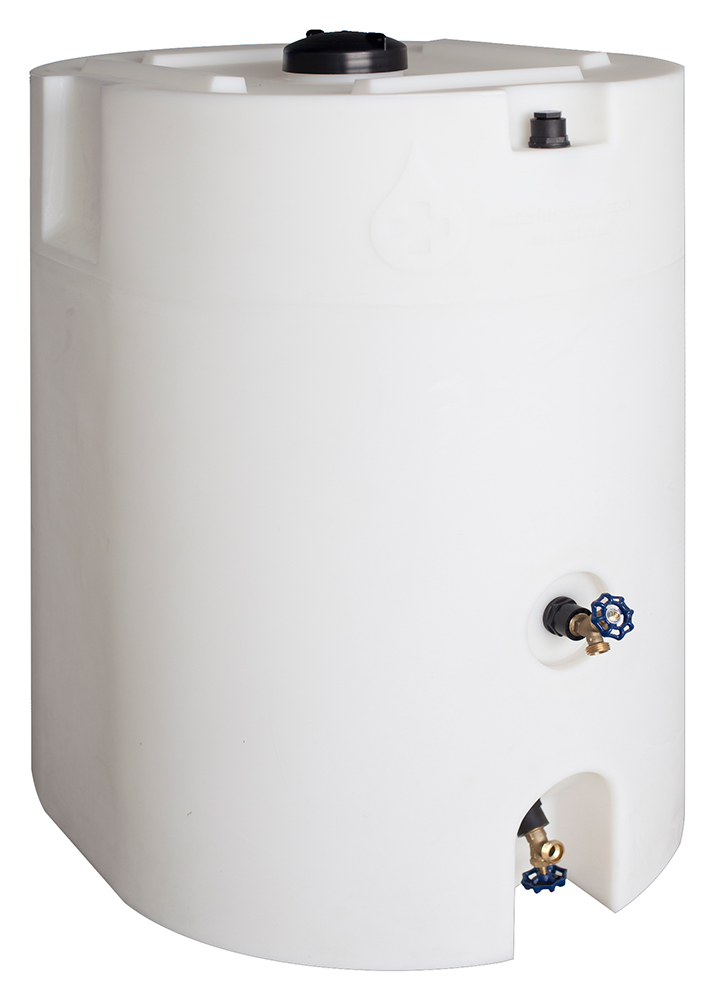 by Brett Thomas
We all learned it pretty young. "Be prepared" is the Boy Scout motto, and a good bit of advice. The people who know what to do in emergency situations are the ones who have taken the time to think in advance in preparation for these unwanted events in our lives. There are potential emergencies we may face, where we will not have access to running water. How long would your family survive without running water? It's a tough question to answer if you don't have anything on reserve. Well, we're here to deliver some facts to help you understand the need, and prepare properly, and wouldn't you know it, PlumbersStock has some great solutions for water storage for emergency preparedness.
Here are a couple great options for affordable, large-scale water storage:
White WaterPrepared 160 Gallon Vertical Water Tank
Both are great options because you don't have to have massive amounts of space to store an incredible amount of water. More on that a little later.

How Much Water Do You Need for Emergencies?
The typical person needs 1 gallon per day, for both drinking and sanitary purposes. You may think children need less, because they are smaller, but oftentimes kids need more than adults. If you live in the heat or in the desert, take that into account as you prepare.
As a general rule of thumb, we recommend you keep at least 3 days supply per person in your home. Remember, that's a minimum. Right now I have a week's supply per person at my house, and I'm working on a month's supply for my household. 160 gallon tanks we offer are a month long supply for a family of 5, so a great solution for many (I'm more like a household of 1.5).
How Should Water Be Stored?
The easy solution is to buy bottled water, but that's not so feasible for bigger families.
If you are going to store your own filtered water from the tap, you will want to make sure you get food-grade water storage containers like what we offer here. You need to clean out the container, even if it's new, with dishwasher soap and get it literally better than new.
If you store your own water in old containers (like old soda bottles) make sure they are plastic and don't use bottles that had juice (specifically fructose) or dairy. Glass containers are easy to break, so not advisable. Cardboard containers are not acceptable for long term storage.
How to Prepare Plastic Bottles for Storage
Just like with the storage containers, you need to clean plastic soda bottles with dish soap.
You need to follow that up by putting household chlorine (just 1 teaspoon) and swish it all around the bottle, then rinse it out. Chlorine should be non-scented!
If your tap water has been treated with chlorine (check with your city) then it can go straight from the tap into the bottle. If not, you will want to include just 2 droplets of chlorine to the water. Obviously, you don't want to drink it immediately, but surprisingly you can drink after 30 minutes of allowing it to settle.
You should probably replace your water every 6 months. That's another advantage to commercially bottled water. You can go to the expiration date, which is quite a bit larger window.
If you want to read more about the topic, go to www.ready.gov/water
About Our Featured Water Tanks
These WaterPrepared tanks are amazing. You can click the links above, at the start of the article, or you can browse through all our water tanks, but the information below is specifically about the two WaterPrepared models.
Dimensions are 29″ wide and 36″ tall, so you can see it can fit just about anywhere (for best results, store in a cool place). The great thing about them is they can be stacked, so 2 can fit easily under the same, normal-height ceiling.
160 gallons is about 3x the norm people shoot for (when they get the standard 55 gallon tank.
2 led-free gate valves (at different heights, which you will find very convenient).
42 lbs when empty (add about 8 lbs per gallon when full).
Be prepared when disaster strikes. You have no idea when it will happen, so now is the best time get squared away with water storage for emergency preparedness.
Our blog is a great resource for home improvement tips.