GROHE is one of the most popular manufacturers among PlumbersStock customers. The new and innovative GROHE Rapido SmartBox rough-in valve (GROHE 35601000) is a great example as to why they are so popular. Installing a new shower or shower parts can be such a pain, but with a universal valve like the SmartBox, the process is simplified. One of the best selling points of this valve is that you can run up to 3 showers off it. The Rapido SmartBox is slim in size, with only a 3″ minimum installation depth. The bottom two inlets make connecting to pipe an easy process. There are other features to discuss, more on that later.
Rapido SmartBox Compatibility
The Rapido SmartBox valve is universal, which means it is compatible with all the various SmartControl trim options from the Grohtherm collection. The square wall plates come in chrome, brushed nickel, and moon white. Take note that the round only comes in chrome and moon white. All MPN's below link to the chrome options: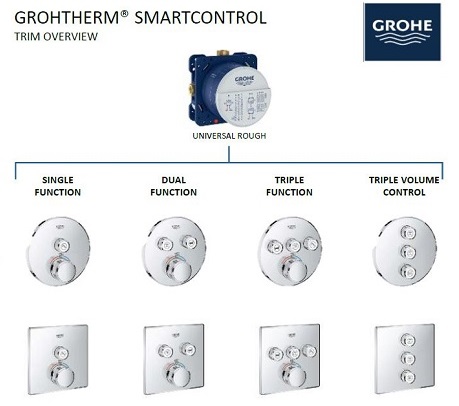 You can customize your shower experience by changing the function of the knobs, which are interchangeable so you can have a symbol that represents the function for ease of use.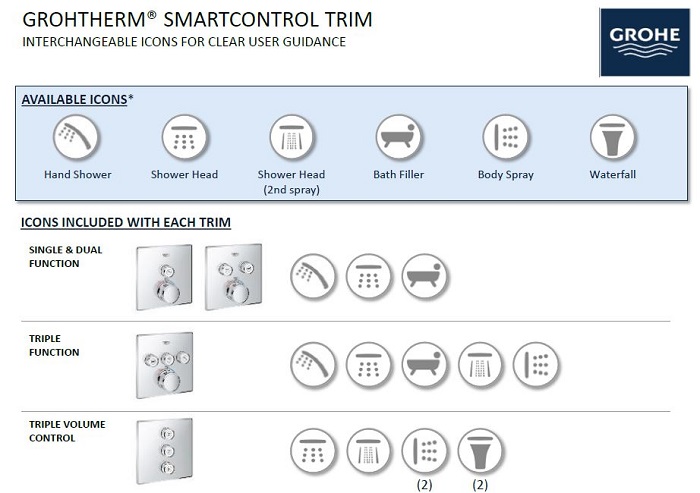 GROHE Rapido SmartBox Features
One feature that has not been mentioned is called Angle Adjustable which means the rough-in offers about 6 degrees of forgiveness. When you install a rough-in, it's hard to get it perfectly level for the wall plate. This feature means you can get it wrong and it will still look right.
It has three outlets constructed from brass, which support up to three showers (as mentioned). It has a handy outlet configuration chart on the rough-in to help streamline the process. There are 16 mounting holes that will cover you whether you are dealing with wood, brick, or concrete. There is a removable plaster guard cover that protects the valve from being compromised during the installation process.
Discount Smart Home Solutions
Save on GROHE Rapido SmartBox valves and valve trim here at PlumbersStock. The right smart home products can make all the difference in improving your lifestyle because they are so convenient and useful. No matter what kind of GROHE fixtures you're in the market for, we have you covered with the best prices.