If you're ready to take your shower to the next level, Moen has got you covered! We are super excited to introduce the brand new Moen aromatherapy showers with Magnetix technology. With a strong reputation for innovative, beautiful designs, this new collection further affirms its place in the industry. As Moen describes it: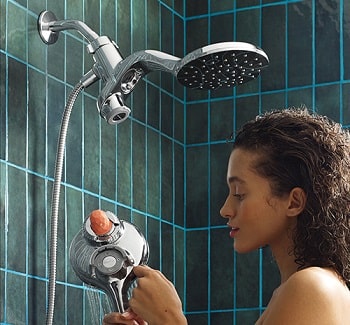 The Moen Aromatherapy Shower creates a luxurious sensory experience. Six spray settings on the hand shower provide optimal water pressure and excellent coverage. Add an INLY Aromatherapy Shower Capsule to your routine and infuse the shower with essential oils and spa-inspired fragrances. Relax. Rejuvenate. Reinvent your time in the shower with Moen.
There are three different types of products in this collection, and two different finishes (chrome and Spot Resist brushed nickel):
You can get the hand shower, or
The combination shower, and in either case, you're going to need
INLY aromatherapy shower capsules (there are four different fragrances).
What Is Magnetix?
Magnetix is a patented docking system that allows for the easy and powerful release and return of the hand shower. It's a wonderful feature because you can relocate the hand shower with your eyes closed or with your back to the dock.
Moen Aromatherapy Combination Showers with Capsules
With these combination showers, bathing time becomes a luxurious spa experience. The 6-1/2″ showerhead offers a large spray pattern, while the handheld shower comes equipped with six different spray settings: massage, relaxing massage, wide-coverage, downpour, intensify, and rinse. You select the spray setting with the simple push of a button.
The hand shower is the component that disseminates water infused with essential oils. Furthermore, the hand shower has four settings for the fragrance level. People with sensitive noses will appreciate this. Be aware that the recommendation is to dilute essential oils with water before applying to the skin.
Handshowers with Aromatherapy Capsules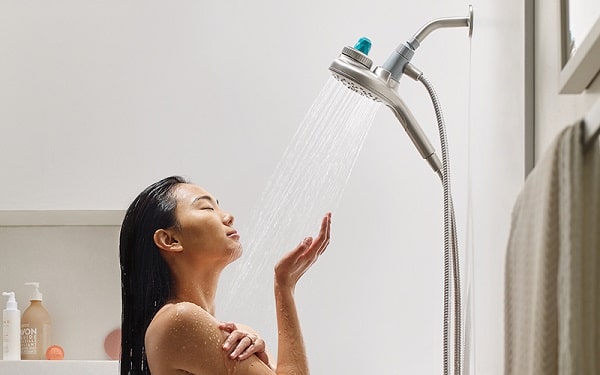 Although the combination showers are great, you can get away with just the hand shower. It works as a showerhead when it is in its dock. This bundle comes with one of each of the four fragrance capsules.
Handshowers Only
INLY Capsule Fragrances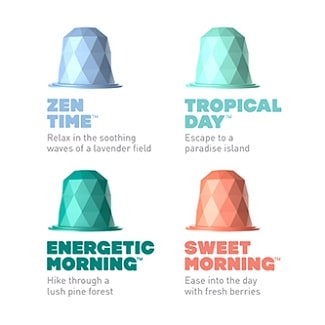 These Moen aromatherapy fragrances come in packs of 5. We recommend that you purchase one of the showers with the INLY capsules included, which means you will enjoy one of each of the fragrances. Once you discover which are your favorites, then you can buy the scents that best suit you.
Shower capsules last from three to ten minutes, depending on the dilution setting. Most users prefer to start their shower without infusing essential oils; then they finish the last minute or two on a low setting. This allows them to get the benefit of leaving the shower feeling rejuvenated while ensuring the capsules last longer.
Save on Moen Aromatherapy at PlumbersStock
We are proud partners with Moen, which allows us to offer the lowest prices on the web for many options. However, in some cases, Moen does not allow us to advertise sale prices on certain items. If you find a faucet that we have listed at the same price as everybody else, you can contact us directly to see about possible special pricing. We want to give you the best deals; we are just bound by advertising agreements. If you are a contractor buying in bulk, we can do even better!
Moen's Limited Lifetime Warranty coverage backs all the showers in this collection. For more information on this collection, check out Moen's press release.