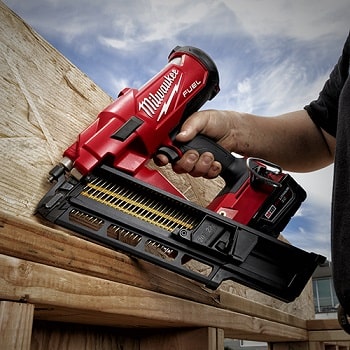 If you work construction, particularly as a framer, then man, oh man, do we have a treat for you! The new Milwaukee M18 FUEL nailers are next level. It's part of the larger M18 FUEL series, which means you can use your compatible batteries with these nailers if you already have them. Milwaukee tools are known for their quality and ingenuity, and you're going to love the features that these FUEL nailers offer:
M18 REDLITHIUM XC5.0 batteries
POWERSTATE brushless motors
REDLINK PLUS intelligence
Three nails per second, which is best in class
21-Degree M18 FUEL Nailer
A 21-degree nailer is an excellent option for getting a lot of work done quickly. It will allow you to access corners, but not as tight of corners as 30-degree nailers.
30-Degree M18 FUEL Nailer
You'll want this M18 FUEL nailer to get into tight spots because the angle allows you better access. Typically the steeper the degree, the smaller the magazine, but Milwaukee engineers have designed an extended clip that will enable more efficient use of your time with the tool.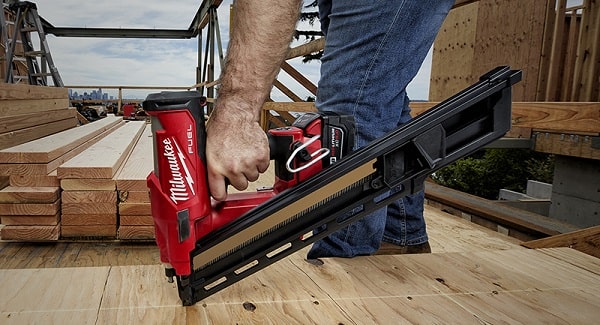 REDLITHIUM
REDLITHIUM batteries are the pinnacle of lithium-ion technology. This is the fuel for your tool, and it will not let you down.  They charge quickly and power your tool for an impressive amount of work. As Milwaukee describes it:
REDLITHIUM™ batteries last longer, think faster, and work harder than all other professional lithium-ion batteries. Our exclusive integration of chemistry, pack design, and circuitry come together for superior output in the harshest environments. REDLITHIUM™ batteries deliver more work over the course of your day and the life of the battery.
Read more about this battery technology here.
POWERSTATE
POWERSTATE is Milwaukee's patented brushless motor technology. One of the most common questions we get is what is a brushless motor? Traditional motors work using magnets and consist of carbon brushes that connect the outer ring to the inner rotor. If you see sparks within the motor casing of an old drill, it's because the brushes are worn out. This happens as a result of all the heat generated by the friction that is necessary to operate.
A brushless motor turns the motor inside out and offers more power while emitting less heat. In other words, they make the battery last longer and use less energy. Because there are fewer parts in a brushless motor system, the machine is simplified. What this means in practical terms is that there is less opportunity for wear and tear. It's just comprised of a chuck, trigger, and housing.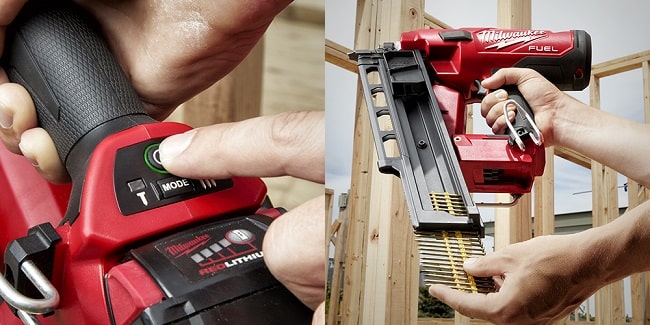 REDLINK PLUS
As Milwaukee proudly boasts, this is the most advanced system of cordless power tool electronics. The tool, battery, and charger all communicate with one another for previously unmatched levels of performance.
Save on Milwaukee M18 FUEL Nailers at PlumbersStock
We are proud partners with Milwaukee, which allows us to offer the lowest prices on the web for many options. However, in some cases, Milwaukee does not allow us to advertise sale prices on certain items. If you find a tool that we have listed at the same price as everybody else, you can contact us directly to see about possible special pricing. We want to give you the best deals; we are just bound by advertising agreements. If you are a contractor buying in bulk, we can do even better! We have other trusted brands for nailers, too.