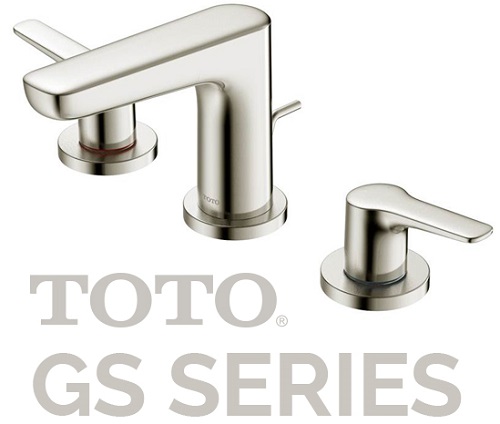 The new TOTO GS series is a great solution for updating your bathroom. There are several different choices for lavatory faucets and matching bathtub trim. There are three distinct finishes in this collection: brushed nickel, polished nickel, and polished chrome. Just add #BN, #PN, or #CP to the end of each manufacturer product number (MPN) to modify it for the finish. At PlumbersStock, TOTO is one of our most popular brands, and it's easy to see why. Their innovative designs are always on the cutting edge of style and technology.
TOTO GS Bathroom Sink Faucets
All the faucets in the GS collection include metal pop-up drain assemblies, are made with brass construction, and are WaterSense certified. This means they meet high-efficiency standards, as they operate at 1.2 gallons per minute.
3-Hole Lavatory Faucet
There is only one model in the TOTO GS series that fits this description, and it's the TLG03201U widespread lavatory faucet. You can get it in three different finishes. This is meant for deck-mounted installations and the handles can be installed with an 8″ to 11″ spread.
1-Hole Lavatory Faucets
There are three models in the collection that fit this description. If you have a regular drop-in or undermount sink, then you should go with the TLG03301U lavatory faucet. Now if you have a vessel sink, the other two faucets are going to be the right solution for you. There is the TLG03303U semi-vessel faucet and also the TLG03305U vessel faucet. These are deck-mount faucets and on all three models, the lever is on top of the fixture which is part of what makes it easy to use (it's called Comfort Glide technology). The faucets are ADA compliant, and the fact that it's a one-hole installation makes things simpler. The ceramic cartridge features of Diamond-Like Carbon (DLC), which is extremely durable.
Wall-Mount Lavatory Faucet
The TLG03308U wall-mount faucet is actually a two-hole configuration, which is very unique. It's got all the same features as the 1-hole faucets (Comfort Glide, DLC, 1.2 gpm, brass construction, etc.).
TOTO GS Tub Faucets
In this collection, there are two options for Roman tub fillers, and then there is a wall-mount Modern R tub spout (TBG01001U) which will come in handy if you don't have a bathtub that is compatible with a Roman configuration.
3-Hole Tub Faucet
This option a deck-mount configuration, so make sure you have the right kind of tub before you make a purchase. Just as you'd expect, the TBG03201U Roman tub faucet is constructed of solid brass. The two lever handles are easy to control, making them ADA compliant. Be aware that you need to purchase the TBN01201U 3-hole rough-in separately, and in order to match the width of your installation, you must get the right length of connecting tube:
4-Hole Tub Faucet w/ Handshower
Another deck-mount installation, you need four holes to accommodate the handheld shower spray. The TBG03202U tub faucet and handshower is just about as good as it gets. You actually need a specific TBN01202U 4-hole rough-in for this installation, but be aware that there are three different finishes! Part of the valve is exposed where the handheld shower connects, so you have to get the right color of rough-in. Same goes for the four-hole configuration, you need connecting tubes (same ones as above) to complete the installation.
Save on the TOTO GS Series at PlumbersStock
As you've come to expect with all TOTO products, we have the best prices around. Manufacturers make rules about the price we can advertise on certain products, but whenever we can, we like to work with customers to make a better price. Therefore, if you're trying to buy in bulk, don't hesitate to contact us directly and we can work out a deal so you can get better savings. So, if you're updating your whole bathroom, hit us up. If you're a contractor, you should already be working with us! Save big when you buy the TOTO GS bathroom series at PlumbersStock.
Also, if you have questions about anything, please contact us or leave a comment below. For your reference, the TOTO GS series is a part of the Global Faucet collection launch.