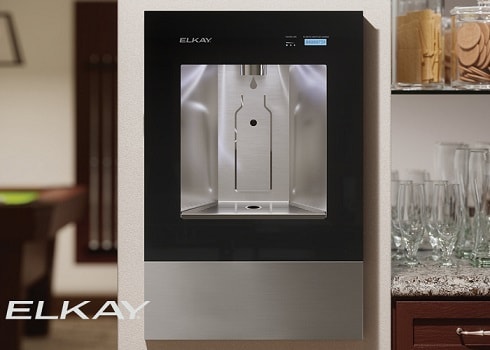 We are excited to announce the arrival of the new Elkay ezH2O Liv bottle fillers here at PlumbersStock. We've been excited about them since we saw them demoed at KBIS 2018. There are four options right now, and we'll go over all the features in a bit, but it's worth mentioning that the real selling point with ezH2O Liv is that it's a beautiful fixture you will love having in your kitchen. Earlier ezH2O models look like they are meant for commercial applications, whereas ezH2O Liv is intended for residential installations. You could go commercial with these, but they are coming out with a commercial option (more on that below). All of these models are filtered:
ezH2O Liv Features
First, you can tell which model it is just by looking. It's either Aspen white or midnight black, and it either has a stainless steel panel or doesn't. The panel would be just below the bottle filler, where the filter is housed for the non-refrigerated version. The filter must be installed before the refrigeration point, so it will all be remotely located. The image pictured above is the LBWD00BKC, and shown below is the LBWD06WHK. The chiller has a model number (ERS11Y) if you need to replace it. The chiller cools up to 6L/hr (1.5 gallons per hour).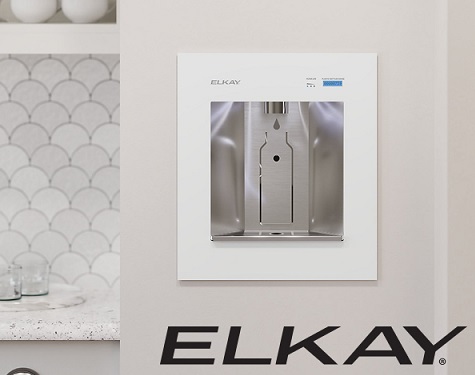 The bottle-filling mechanism is hands-free and sensor-operated. The WaterSentry Plus filter removes lead, taste, odors, sediment, chlorine, and more. It should last you for 750 gallons, which is about 6,000 bottles. That means most households would need to change the filter about once a year, a testament to the convenience you can expect from Elkay products. The counter tracks use in terms of 16 oz bottles. The display also uses colors to communicate the stages of the filter: light blue (instead of green) for "OK," yellow at 500 gallons, and red at 750 gallons.
Here is a helpful demo video that you can watch. We cover all this information in this post, but you can see the Elkay ezH2O Liv bottle filler in action.
Note: The warranty on these models will only apply to residential applications. Elkay plans on introducing a commercial version later this summer. As we understand it, the differences may not be noticeable, but the vital part to you is that it comes with a warranty.
ezH2O Liv Installation Tips
It requires an incoming water line, and though it's highly recommended, a drain outlet is not needed. The drip tray is removable, so that's how you rid the bottle filling station of excess water. Still, a drain is a superior solution in case of significant accidents (let's be honest, we can't always be watching our kids, and they don't always act with common sense). If you do add a drain line, all you have to do is drill a hole in the drip tray.
The entire unit is meant to fit between studs, so it should be compatible with almost any wall. The outside diameter is 28″ x 18″ if you get a unit with the stainless steel panel below the bottle filler. It's only 21″ x 18″ if you install the remote chiller version.
The WaterSentry Plus filter must be installed within 15' of the cooler. As mentioned, if using a chiller, the incoming line must go through the filter first and then the chiller.
Save on Elkay ezH2O Liv Bottle Fillers at PlumbersStock
Remember, we have great prices on some of the best-selling Elkay water coolers and a large selection of bottle fillers, so check them out. If you have any remaining questions about the ezH2O Liv release, please don't hesitate to contact us.