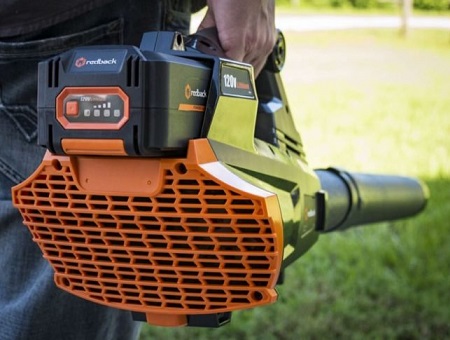 Last year, we added Redback to our catalog, and these tools have been flying off the shelves. In addition to the popular 40V Swift (brush motors) and Flex (brushless) series, Redback is the innovative manufacturer behind the MowRo robot lawnmower that automatically mows your grass for you. Well, it gets better. PlumbersStock now has the Redback Pro series, a line of 120V cordless power tools for lawn and garden care. These are also brushless motors, and the motor and the interchangeable Lithium-ion battery system offer a stunning amount of power.
Note: you'll see the batteries have Ah ratings. This rating is called amp hours, and it signifies the power with which it can operate for an hour. So, for example, 3 Ah means that it can operate at 3 amps for an hour.
120V Leaf Blowers
A commercial-grade leaf blower makes clean-up easy. 120V batteries offer enough power to take care of quite a mess, and with multiple batteries (because you've bought numerous Redback tools), you can cover a large property. Choose between battery and kit combos. If you don't need a battery, you can toggle to the tool only option from the product pages below:
Redback 120V Lawnmowers
There are a few different mowers to choose from, and just like with the leaf blowers, the difference pertains to battery operating capacity and what is included in the kit. It's a pretty big cordless lawnmower, at 20 inches wide. It will surprise you how much you can mow on one battery. If you have a big yard, it's not a bad idea to get more than one battery, especially if you're using other tools, which is a pretty standard way to spend a Saturday.
120V String Trimmers
Battery-powered string trimmers, also commonly referred to as weed eaters, are a great way to keep the edges of your lawn looking amazing. The portability and quiet operation make a far superior solution to corded or gas-fueled solutions.
Pro Series Chainsaw
Last but not least, we have chainsaws. The 120V Redback chainsaw is a powerful machine, and it's one of the most satisfying tools to use. Quietly cut through large tree branches and trunks with surprising ease. It's easy to assemble and doesn't take up much room in your tool shed.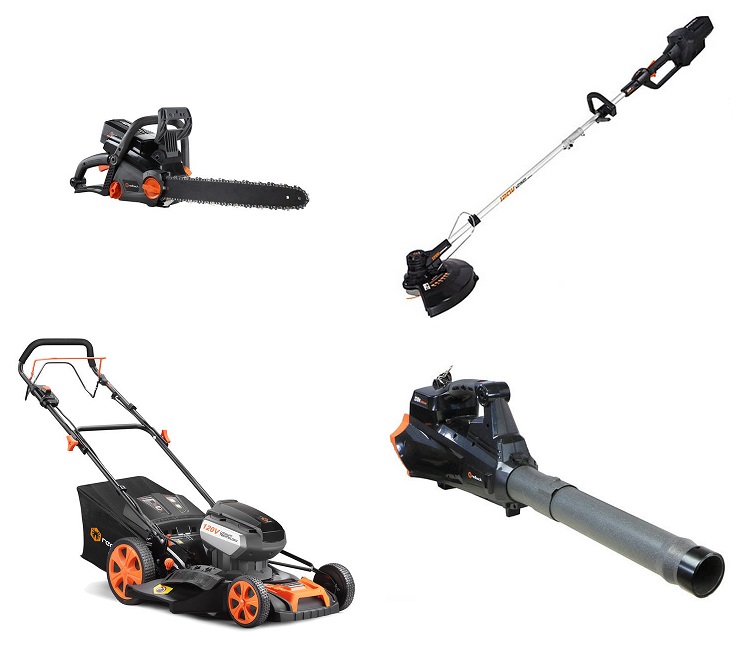 Buy Pro Series 120V Cordless Power Tools at PlumbersStock
You can buy and save on any Redback 120v cordless power tools when you shop online with PlumbersStock. Be sure to check back with us in the future as we release new tools. If you run a landscape crew, please don't hesitate to hit us up for a special arrangement with better deals than what you see here. We'll always give you better prices if you buy in bulk, so contact us. Save on all brands of garden power tools.